By:
Wilco
(Wilco.Dijkstra.delete@this.ntlworld.com), April 30, 2017 11:28 am
Heikki kultala (heikki.kultala.delete@this.tut.fi) on April 29, 2017 11:17 am wrote:
>
> here is better A53 vs A57 vs A72 perf/power comparison.
>
>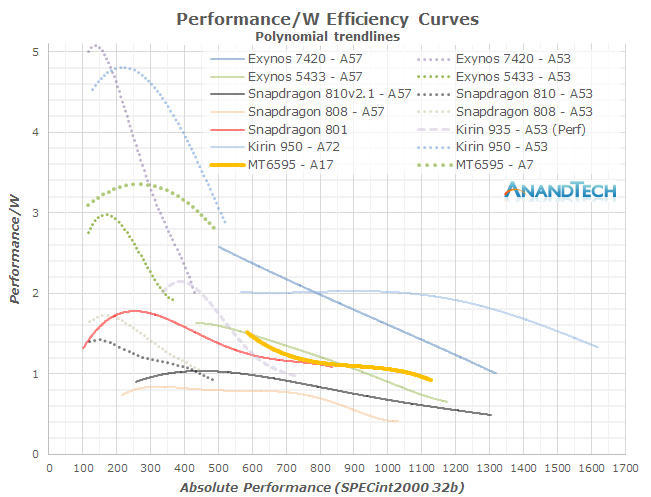 >
> Trying to get more performance out from A53 makes its power efficiency go very
> bad, easily much worse than A72, as it needs very high clock speeds, very high
> frequencies and circuits designed for clock speed, not power efficiency.
That's not true - the graph is confusing but shows that when you compare like for like Cortex-A53 at its least efficient point has higher efficiency than the big core at its most efficient point. And that's not surprising given that's the point of big.LITTLE.
Now it's true that if you try to push a core optimized for 1.5GHz to 2GHz by overvolting it then it won't run efficiently. But that applies universally and doesn't mean you can't optimize the same core for efficient operation at 2GHz.
Wilco
| Topic | Posted By | Date |
| --- | --- | --- |
| Apple confirms that they are ditching Imagination within two years | Anon | 2017/04/03 12:21 AM |
| Apple confirms that they are ditching Imagination within two years | Michael S | 2017/04/03 12:40 AM |
| MIPS | Anon | 2017/04/03 12:48 AM |
| Microprocessor WITH interlocked Pipeline Stages, please rest in peace! | Heikki Kultala | 2017/04/03 02:59 AM |
| Microprocessor WITH interlocked Pipeline Stages, please rest in peace! | RichardC | 2017/04/03 06:17 AM |
| RISC *was* science, not religion | RichardC | 2017/04/03 04:49 PM |
| RISC *was* science, not religion | Ireland | 2017/04/03 05:12 PM |
| RISC *was* science, not religion | bakaneko | 2017/04/03 10:40 PM |
| RISC *was* science, not religion | Linus Torvalds | 2017/04/03 05:25 PM |
| RISC *was* science, not religion | RichardC | 2017/04/03 05:45 PM |
| RISC *was* science, not religion | anon | 2017/04/03 07:37 PM |
| RISC *was* science, not religion | bakaneko | 2017/04/03 11:00 PM |
| RISC *was* science, not religion | Michael S | 2017/04/04 12:23 AM |
| RISC *was* science, not religion | anon | 2017/04/04 12:51 AM |
| RISC *was* science, not religion | bakaneko | 2017/04/04 03:17 AM |
| RISC *was* science, not religion | anon | 2017/04/04 05:39 AM |
| RISC *was* science, not religion | RichardC | 2017/04/04 05:02 AM |
| RISC *was* science, not religion | Michael S | 2017/04/04 06:05 AM |
| RISC *was* science, not religion | RichardC | 2017/04/04 07:06 AM |
| Try not to aim for one point on the curve! | David Kanter | 2017/04/05 09:15 PM |
| Try not to aim for one point on the curve! | RichardC | 2017/04/06 03:11 AM |
| Try not to aim for one point on the curve! | Michael S | 2017/04/06 05:17 AM |
| Try not to aim for one point on the curve! | Ireland | 2017/04/06 09:16 AM |
| Try not to aim for one point on the curve! | RichardC | 2017/04/06 09:25 AM |
| Influence of Palm and Blackberry on Smaller Devices | Ireland | 2017/04/06 09:45 AM |
| Try not to aim for one point on the curve! | Ireland | 2017/04/06 09:11 AM |
| RISC not needed for smartphones and tablets | Heikki Kultala | 2017/04/06 09:39 PM |
| Try not to aim for one point on the curve! | coppice | 2017/04/07 02:52 AM |
| Try not to aim for one point on the curve! | Michael_S | 2017/04/07 03:41 AM |
| RISC *was* science, not religion | bakaneko | 2017/04/04 06:55 AM |
| RISC *was* science, not religion | Ireland | 2017/04/04 07:59 AM |
| RISC *was* science, not religion | anon | 2017/04/05 02:53 AM |
| RISC *was* science, not religion | Brett | 2017/04/05 08:25 PM |
| RISC *was* science, not religion | anon | 2017/04/06 01:36 AM |
| RISC *was* science, not religion | Brett | 2017/04/06 08:36 PM |
| RISC *was* science, not religion | anon | 2017/04/07 06:05 AM |
| RISC *was* science, not religion | Brett | 2017/04/07 11:02 PM |
| RISC *was* science, not religion | dmcq | 2017/04/08 03:45 AM |
| RISC *was* science, not religion | anon | 2017/04/08 07:39 AM |
| (disappointing) Mill progress | Ungo | 2017/04/08 12:07 PM |
| (disappointing) Mill progress | Michael S | 2017/04/08 12:36 PM |
| (disappointing) Mill progress | wumpus | 2017/04/08 05:44 PM |
| I don't understand why they are aiming for CPU instead for DSP (NT) | Heikki Kultala | 2017/04/08 09:16 PM |
| I don't understand why they are aiming for CPU instead for DSP | Coppice | 2017/04/08 09:40 PM |
| I don't understand why they are aiming for CPU instead for DSP | Coppice | 2017/04/08 10:32 PM |
| I don't understand why they are aiming for CPU instead for DSP | wumpus | 2017/04/09 08:41 AM |
| I don't understand why they are aiming for CPU instead for DSP | Heikki Kultala | 2017/04/09 08:49 PM |
| I don't understand why they are aiming for CPU instead for DSP | Michael S | 2017/04/09 02:15 AM |
| I don't understand why they are aiming for CPU instead for DSP | anon | 2017/04/09 06:01 AM |
| RISC *was* science, not religion | Brett | 2017/04/08 11:16 PM |
| RISC *was* science, not religion | anon | 2017/04/09 08:30 AM |
| RISC *was* science, not religion | Michael S | 2017/04/09 09:04 AM |
| RISC *was* science, not religion | anon | 2017/04/09 10:06 AM |
| RISC *was* science, not religion | Brett | 2017/04/09 09:53 PM |
| RISC *was* science, not religion | Doug S | 2017/04/10 01:03 PM |
| RISC *was* science, not religion | Michael_S | 2017/04/11 09:14 AM |
| RISC *was* science, not religion | Brett | 2017/04/09 11:01 PM |
| RISC *was* science, not religion | anon | 2017/04/10 01:11 AM |
| RISC *was* science, not religion | Doug S | 2017/04/11 02:31 PM |
| RISC *was* science, not religion | Brett | 2017/04/11 09:06 PM |
| RISC *was* science, not religion | anon | 2017/04/12 03:49 AM |
| RISC *was* science, not religion | Gabriele Svelto | 2017/04/09 12:55 AM |
| RISC *was* science, not religion | Megol | 2017/04/10 09:42 AM |
| RISC *was* science, not religion | Gabriele Svelto | 2017/04/10 01:12 PM |
| RISC *was* science, not religion | Megol | 2017/04/11 11:23 AM |
| RISC *was* science, not religion | Gabriele Svelto | 2017/04/11 12:49 PM |
| The Mill is not dataflow | Paul A. Clayton | 2017/04/12 03:43 AM |
| The Mill is not dataflow | Adrian | 2017/04/12 10:21 AM |
| Name rather than address for Mill pick-up loads? | Paul A. Clayton | 2017/04/12 06:35 PM |
| Name rather than address for Mill pick-up loads? | Adrian | 2017/04/12 10:51 PM |
| Fractional bits for instruction encoding | ook | 2017/04/13 12:56 AM |
| Fractional bits have been used for RegID encoding (NT) | Paul A. Clayton | 2017/04/13 03:04 AM |
| Fractional bits for instruction encoding | Megol | 2017/04/13 04:21 AM |
| fractional bits | RichardC | 2017/04/13 05:20 AM |
| fractional bits | Megol | 2017/04/15 05:22 AM |
| fractional bits | RichardC | 2017/04/15 09:58 AM |
| fractional bits | Adrian | 2017/04/16 03:08 AM |
| fractional bits | dmcq | 2017/04/16 04:04 AM |
| fractional bits | Michael_S | 2017/04/16 04:27 AM |
| The Mill spills load buffers on function calls | Paul A. Clayton | 2017/04/16 11:44 AM |
| The Mill spills load buffers on function calls | RichardC | 2017/04/16 01:36 PM |
| A specialized cache for spills | Paul A. Clayton | 2017/04/16 03:52 PM |
| A specialized cache for spills | RichardC | 2017/04/17 12:16 AM |
| The cycle-predictable domain | RichardC | 2017/04/17 07:29 AM |
| The cycle-predictable domain | Michael S | 2017/04/17 01:35 PM |
| The cycle-predictable domain | RichardC | 2017/04/17 02:01 PM |
| The cycle-predictable domain | Michael S | 2017/04/17 02:37 PM |
| The cycle-predictable domain | RichardC | 2017/04/17 04:25 PM |
| The cycle-predictable domain | RichardC | 2017/04/20 08:10 AM |
| The cycle-predictable domain | Michael S | 2017/04/21 04:15 AM |
| sgemm details | RichardC | 2017/04/21 05:09 AM |
| sgemm details | RichardC | 2017/04/21 08:45 AM |
| sgemm details | RichardC | 2017/04/21 10:27 AM |
| sgemm details | Michael S | 2017/04/22 09:43 AM |
| sgemm details | RichardC | 2017/04/23 05:18 AM |
| sgemm details | anon | 2017/04/23 05:51 AM |
| sgemm details | Michael S | 2017/04/23 05:59 AM |
| sgemm details | Travis | 2017/04/25 07:26 PM |
| sgemm details | Michael S | 2017/04/26 12:10 AM |
| sgemm details | Travis | 2017/04/26 11:33 AM |
| sgemm details | Michael S | 2017/04/26 12:37 PM |
| sgemm details | anon | 2017/04/27 08:17 AM |
| sgemm details | anon | 2017/04/26 10:35 AM |
| sgemm details | Travis | 2017/04/26 12:00 PM |
| sgemm details | Travis | 2017/04/26 12:50 PM |
| sgemm details | Travis | 2017/04/26 12:55 PM |
| sgemm details | Travis | 2017/04/26 12:58 PM |
| sgemm details | anon | 2017/04/26 01:20 PM |
| sgemm details | Michael S | 2017/04/23 05:55 AM |
| Mill "registers" | Michael S | 2017/04/22 10:45 AM |
| The cycle-predictable domain | Jacob Marley | 2017/04/17 08:28 PM |
| The cycle-predictable domain | Jacob Marley | 2017/04/17 08:28 PM |
| The cycle-predictable domain | Maynard Handley | 2017/04/17 09:00 PM |
| OoO window and caches | RichardC | 2017/04/18 05:53 AM |
| Mill made more sense in 2003 | RichardC | 2017/04/18 01:48 PM |
| Mill made more sense in 2003 | Megol | 2017/04/18 02:24 PM |
| Mill made more sense in 2003 | RichardC | 2017/04/18 03:46 PM |
| Mill made more sense in 2003 | Megol | 2017/04/19 09:02 AM |
| Mill made more sense in 2003 | RichardC | 2017/04/19 12:22 PM |
| Mill made more sense in 2003 | anon | 2017/04/20 05:35 AM |
| Mill made more sense in 2003 | RichardC | 2017/04/20 08:39 AM |
| Mill made more sense in 2003 | anon | 2017/04/20 11:15 AM |
| Mill made more sense in 2003 | RichardC | 2017/04/20 12:10 PM |
| Mill made more sense in 2003 | anon | 2017/04/20 02:27 PM |
| Mill made more sense in 2003 | RichardC | 2017/04/20 06:33 PM |
| Mill made more sense in 2003 | anon | 2017/04/21 02:35 AM |
| Mill made more sense in 2003 | RichardC | 2017/04/21 04:25 AM |
| Denver | RichardC | 2017/04/21 04:54 AM |
| Denver | dmcq | 2017/04/22 03:57 AM |
| Denver | Michael S | 2017/04/22 10:58 AM |
| Denver | dmcq | 2017/04/22 11:57 AM |
| Denver | RichardC | 2017/04/22 01:41 PM |
| Denver | dmcq | 2017/04/22 02:35 PM |
| Denver | dmcq | 2017/04/22 02:41 PM |
| loops | RichardC | 2017/04/23 05:03 AM |
| loops | anon | 2017/04/23 05:35 AM |
| loops | RichardC | 2017/04/25 05:41 PM |
| loops | anon | 2017/04/26 04:08 AM |
| loops | Brett | 2017/04/26 12:27 PM |
| loops | anon | 2017/04/26 01:16 PM |
| loops | Brett | 2017/04/27 12:11 AM |
| Denver | Michael S | 2017/04/22 02:41 PM |
| Phasing *is* similar to classic skewed pipelines | Paul A. Clayton | 2017/04/24 10:52 AM |
| Phasing *is* similar to classic skewed pipelines | RichardC | 2017/04/25 05:50 PM |
| Phasing *is* similar to classic skewed pipelines | Megol | 2017/04/26 03:58 AM |
| Phasing *is* similar to classic skewed pipelines | anon | 2017/04/26 04:18 AM |
| Phasing *is* similar to classic skewed pipelines | RichardC | 2017/04/26 12:22 PM |
| Phasing *is* similar to classic skewed pipelines | Brett | 2017/04/26 12:38 PM |
| Phasing *is* similar to classic skewed pipelines | Michael S | 2017/04/26 01:13 PM |
| Phasing *is* similar to classic skewed pipelines | RichardC | 2017/04/26 03:19 PM |
| Mill made more sense in 2003 | anon | 2017/04/21 06:55 AM |
| Mill made more sense in 2003 | RichardC | 2017/04/21 07:56 AM |
| Mill made more sense in 2003 | anon | 2017/04/21 10:46 AM |
| Mill made more sense in 2003 | RichardC | 2017/04/21 01:13 PM |
| Mill made more sense in 2003 | anon | 2017/04/21 01:21 PM |
| Mill made more sense in 2003 | none | 2017/04/21 08:03 AM |
| Mill made more sense in 2003 | NoSpammer | 2017/04/21 11:40 AM |
| Mill made more sense in 2003 | anon | 2017/04/21 12:19 PM |
| Mill made more sense in 2003 | Brett | 2017/05/06 02:16 PM |
| Mill made more sense in 2003 | anon | 2017/05/06 03:41 PM |
| Mill made more sense in 2003 | wumpus | 2017/05/06 06:05 PM |
| Mill made more sense in 2003 | Brett | 2017/05/07 12:56 PM |
| Mill made more sense in 2003 | anon | 2017/05/07 04:47 PM |
| Mill made more sense in 2003 | Brett | 2017/05/07 07:57 PM |
| Mill made more sense in 2003 | anon | 2017/05/08 12:39 AM |
| Mill made more sense in 2003 | Brett | 2017/05/08 01:38 AM |
| Mill made more sense in 2003 | anon | 2017/05/08 02:15 AM |
| Mill made more sense in 2003 | wumpus | 2017/05/08 06:53 AM |
| Mill made more sense in 2003 | Brett | 2017/05/08 10:34 PM |
| Mill made more sense in 2003 | anon | 2017/05/09 05:53 AM |
| Mill made more sense in 2003 | Brett | 2017/05/10 08:34 PM |
| Mill made more sense in 2003 | anon | 2017/05/11 09:28 AM |
| Mill made more sense in 2003 | Brett | 2017/05/11 09:31 AM |
| Mill made more sense in 2003 | anon | 2017/05/11 01:46 PM |
| Mill made more sense in 2003 | Brett | 2017/05/11 09:12 PM |
| Mill made more sense in 2003 | anon | 2017/05/12 09:06 AM |
| Mill made more sense in 2003 | Brett | 2017/05/14 06:42 PM |
| Mill made more sense in 2003 | anon | 2017/05/15 07:51 AM |
| Mill made more sense in 2003 | Brett | 2017/05/15 08:56 AM |
| Mill made more sense in 2003 | anon | 2017/05/15 11:50 AM |
| Mill static scheduling | Paul A. Clayton | 2017/05/15 11:00 AM |
| integer multiplication latence, welcome to this millennium | Heikki Kultala | 2017/05/15 11:24 AM |
| integer multiplication latence, welcome to this millennium | RichardC | 2017/05/15 01:38 PM |
| stalling after variable latency instruction in mill | Heikki Kultala | 2017/05/15 08:56 PM |
| stalling after variable latency instruction in mill | anon | 2017/05/16 12:31 AM |
| stalling after variable latency instruction in mill | Michael S | 2017/05/16 12:34 AM |
| stalling after variable latency instruction in mill | RichardC | 2017/05/16 08:19 AM |
| integer multiplication latence, welcome to this millennium | Brett | 2017/05/15 09:23 PM |
| integer multiplication latence, welcome to this millennium | Heikki Kultala | 2017/05/15 11:10 PM |
| integer multiplication latence, welcome to this millennium | Brett | 2017/05/17 09:56 AM |
| integer multiplication latence, welcome to this millennium | anon | 2017/05/16 12:44 AM |
| integer multiplication latence, welcome to this millennium | Brett | 2017/05/16 10:37 PM |
| integer multiplication latence, welcome to this millennium | Brett | 2017/05/20 04:23 PM |
| fast multiplier size | Heikki Kultala | 2017/05/16 03:43 AM |
| Mill made more sense in 2003 | Jacob Marley | 2017/05/06 07:16 PM |
| the dataflow graph | RichardC | 2017/05/08 04:59 PM |
| the dataflow graph | Jacob Marley | 2017/05/08 08:49 PM |
| the dataflow graph | RichardC | 2017/05/09 03:28 AM |
| the dataflow graph | Jacob Marley | 2017/05/14 02:12 AM |
| dataflow languages? | j | 2017/05/09 01:58 AM |
| dataflow languages? | anon.1 | 2017/05/10 07:09 AM |
| dataflow languages? | j | 2017/05/12 04:00 AM |
| dataflow languages? | RichardC | 2017/05/12 02:02 PM |
| dataflow languages? (R in particular) | wumpus | 2017/05/14 08:50 AM |
| R/Python dynamic workload is Fortran-like ? | RichardC | 2017/05/14 04:59 PM |
| dataflow languages? (R in particular) | slacker | 2017/05/14 08:52 PM |
| Mill made more sense in 2003 | Megol | 2017/04/22 03:42 AM |
| Mill made more sense in 2003 | RichardC | 2017/04/22 10:07 AM |
| Actually, Mill scratchpad is more like 1 cycle | Henry S | 2017/04/21 01:27 PM |
| Mill made more sense in 2003 | Jacob Marley | 2017/04/20 09:14 PM |
| Mill made more sense in 2003 | Jacob Marley | 2017/04/20 09:14 PM |
| Mill made more sense in 2003 | Jacob Marley | 2017/04/20 09:15 PM |
| OoOE processor and virtual function calls | Heikki kultala | 2017/04/20 09:59 PM |
| OoOE processor and virtual function calls | Jacob Marley | 2017/04/21 12:12 AM |
| OoOE processor and virtual function calls | Michael_S | 2017/04/21 02:04 AM |
| OoOE processor and virtual function calls | RichardC | 2017/04/21 05:26 AM |
| Mill made more sense in 2003 | Michael_S | 2017/04/21 02:37 AM |
| Mill made more sense in 2003 | Gabriele Svelto | 2017/04/22 02:17 PM |
| Glew quote about amount of OoO | Paul A. Clayton | 2017/04/24 09:55 AM |
| Glew thoughts on OoO vs tradittional Runahead vs improved Runahead | juanrga | 2017/04/25 09:58 AM |
| Glew thoughts on OoO vs tradittional Runahead vs improved Runahead | Paul A. Clayton | 2017/04/26 05:32 PM |
| Glew thoughts on OoO vs tradittional Runahead vs improved Runahead | juanrga | 2017/04/28 04:06 AM |
| Glew quote about amount of OoO | anon | 2017/04/25 02:06 PM |
| Glew quote about amount of OoO | Linus Torvalds | 2017/04/25 04:11 PM |
| How ARM Cortex-A53 fits in the picture? (NT) | Michael S | 2017/04/25 11:40 PM |
| I think you put your finger on it | Henry S | 2017/04/26 01:16 AM |
| I think you put your finger on it | Jacob Marley | 2017/04/26 11:02 PM |
| I think you put your finger on it | Henry S | 2017/04/27 06:29 PM |
| I think you put your finger on it | Jacob Marley | 2017/04/29 05:17 PM |
| A Mill-specific weakness? | Paul A. Clayton | 2017/04/29 05:41 PM |
| Glew quote about amount of OoO | Etienne | 2017/04/26 01:53 AM |
| Glew quote about amount of OoO | Michael S | 2017/04/26 02:29 AM |
| Glew quote about amount of OoO | dmcq | 2017/04/26 03:52 AM |
| Glew quote about amount of OoO | anon | 2017/04/26 05:20 AM |
| Glew quote about amount of OoO | nobody in particular | 2017/04/26 05:45 AM |
| Glew quote about amount of OoO | anon | 2017/04/26 06:07 AM |
| Glew quote about amount of OoO | wumpus | 2017/04/26 06:32 AM |
| Glew quote about amount of OoO | anon | 2017/04/26 07:21 AM |
| Glew quote about amount of OoO | nobody in particular | 2017/04/26 04:53 PM |
| Glew quote about amount of OoO | Linus Torvalds | 2017/04/26 10:44 AM |
| Glew quote about amount of OoO | anon | 2017/04/26 10:56 AM |
| Glew quote about amount of OoO | Linus Torvalds | 2017/04/26 01:26 PM |
| Glew quote about amount of OoO | anon | 2017/04/27 01:30 AM |
| Glew quote about amount of OoO | Linus Torvalds | 2017/04/27 10:04 AM |
| Glew quote about amount of OoO | anon | 2017/04/27 10:26 AM |
| Glew quote about amount of OoO | Linus Torvalds | 2017/04/27 11:17 AM |
| Glew quote about amount of OoO | anon | 2017/04/27 11:28 AM |
| Glew quote about amount of OoO | Linus Torvalds | 2017/04/27 12:07 PM |
| Flying Scotsman | Ireland | 2017/04/27 12:56 PM |
| Glew quote about amount of OoO | anon | 2017/04/27 01:39 PM |
| Glew quote about amount of OoO | Ireland | 2017/04/27 02:18 PM |
| Glew quote about amount of OoO | Linus Torvalds | 2017/04/27 02:37 PM |
| Glew quote about amount of OoO | anon | 2017/04/27 03:03 PM |
| Glew quote about amount of OoO | Linus Torvalds | 2017/04/27 03:54 PM |
| Glew quote about amount of OoO | Ireland | 2017/04/27 04:36 PM |
| Glew quote about amount of OoO | rwessel | 2017/04/27 05:01 PM |
| Glew quote about amount of OoO | dmcq | 2017/04/28 03:19 AM |
| Glew quote about amount of OoO | Ireland | 2017/04/28 06:37 AM |
| Glew quote about amount of OoO | Ireland | 2017/04/28 07:26 AM |
| Glew quote about amount of OoO | Brett | 2017/04/28 09:17 AM |
| Glew quote about amount of OoO | Maynard Handley | 2017/04/28 10:58 AM |
| Glew quote about amount of OoO | Ireland | 2017/04/28 12:27 PM |
| Glew quote about amount of OoO | wumpus | 2017/04/28 06:39 PM |
| Glew quote about amount of OoO | Jukka Larja | 2017/04/28 08:03 PM |
| Glew quote about amount of OoO | rwessel | 2017/04/28 09:10 PM |
| Glew quote about amount of OoO | Jukka Larja | 2017/04/29 03:30 AM |
| Glew quote about amount of OoO | gallier2 | 2017/05/08 12:49 AM |
| Glew quote about amount of OoO | Maynard Handley | 2017/04/28 09:14 PM |
| Glew quote about amount of OoO | Jukka Larja | 2017/04/29 03:27 AM |
| Glew quote about amount of OoO | wumpus | 2017/04/29 09:03 AM |
| Glew quote about amount of OoO | Ireland | 2017/04/29 05:57 PM |
| Glew quote about amount of OoO | Maynard Handley | 2017/04/29 08:28 PM |
| Glew quote about amount of OoO | Ireland | 2017/04/30 07:46 AM |
| Methods for exchange of data | Ireland | 2017/04/30 07:59 AM |
| Glew quote about amount of OoO | wumpus | 2017/04/27 07:40 PM |
| Glew quote about amount of OoO | Gabriele Svelto | 2017/04/28 12:58 AM |
| Glew quote about amount of OoO | wumpus | 2017/04/28 06:38 AM |
| Glew quote about amount of OoO | Linus Torvalds | 2017/04/28 09:12 AM |
| Glew quote about amount of OoO | dmcq | 2017/04/28 10:31 AM |
| Glew quote about amount of OoO | Linus B Torvalds | 2017/04/28 04:16 PM |
| Glew quote about amount of OoO | dmcq | 2017/04/29 07:30 AM |
| Glew quote about amount of OoO | wumpus | 2017/04/28 06:29 PM |
| Glew quote about amount of OoO | Seni | 2017/04/29 04:36 AM |
| Critical misunderstandings | @ | 2017/04/29 08:42 AM |
| Critical misunderstandings | Megol | 2017/04/29 01:18 PM |
| Critical misunderstandings | Exophase | 2017/04/29 08:22 PM |
| Critical misunderstandings | Maynard Handley | 2017/04/29 09:01 PM |
| Critical misunderstandings | @ | 2017/04/30 05:03 AM |
| Glew quote about amount of OoO | Gabriele Svelto | 2017/04/28 12:46 AM |
| Glew quote about amount of OoO | anon | 2017/04/28 01:40 AM |
| Glew quote about amount of OoO | anon2 | 2017/04/27 02:39 PM |
| Glew quote about amount of OoO | anon | 2017/04/27 03:10 PM |
| Glew quote about amount of OoO | anon2 | 2017/04/27 03:57 PM |
| Glew quote about amount of OoO | anon2 | 2017/04/27 04:00 PM |
| Glew quote about amount of OoO | anon | 2017/04/28 01:06 AM |
| Glew quote about amount of OoO | anon2 | 2017/04/28 04:42 AM |
| Glew quote about amount of OoO | anon | 2017/04/28 09:15 AM |
| Glew quote about amount of OoO | anon2 | 2017/04/28 05:05 PM |
| Glew quote about amount of OoO | Wilco | 2017/04/27 03:56 PM |
| Glew quote about amount of OoO | anon2 | 2017/04/27 04:57 PM |
| Glew quote about amount of OoO | Etienne | 2017/04/28 12:56 AM |
| Glew quote about amount of OoO | Wilco | 2017/04/28 02:24 AM |
| Glew quote about amount of OoO | anon | 2017/04/28 02:40 AM |
| Glew quote about amount of OoO | Etienne | 2017/04/28 04:29 AM |
| Glew quote about amount of OoO | Linus B Torvalds | 2017/04/29 01:12 PM |
| Glew quote about amount of OoO | anon2 | 2017/04/28 04:57 AM |
| Glew quote about amount of OoO | Wilco | 2017/04/28 01:25 PM |
| Moar cores and A53 | Heikki kultala | 2017/04/29 10:03 AM |
| Bad comparison points of A53 and A72. | Heikki kultala | 2017/04/29 10:01 AM |
| Bad comparison points of A53 and A72. | juanrga | 2017/04/30 04:02 AM |
| Bad comparison points of A53 and A72. | anon2 | 2017/04/30 04:31 AM |
| Did AAPL ever confirmed that Zephyr is OoO ? (NT) | Michael S | 2017/04/30 06:26 AM |
| Did AAPL ever confirmed that Zephyr is OoO ? | Maynard Handley | 2017/04/30 09:08 AM |
| Glew quote about amount of OoO | Heikki kultala | 2017/04/29 10:17 AM |
| Glew quote about amount of OoO | Maynard Handley | 2017/04/29 11:51 AM |
| Glew quote about amount of OoO | Wilco | 2017/04/30 11:28 AM |
| Glew quote about amount of OoO | David Hess | 2017/04/30 12:14 PM |
| Glew quote about amount of OoO | Wilco | 2017/05/01 03:42 AM |
| | anon2 | 2017/05/01 04:59 AM |
| Posted without topic (was Glew quote about amount of OoO) | anon2 | 2017/05/01 05:01 AM |
| Glew quote about amount of OoO | David Hess | 2017/05/01 08:36 AM |
| Glew quote about amount of OoO | Heikki kultala | 2017/05/01 07:27 PM |
| Glew quote about amount of OoO | Wilco | 2017/05/02 12:29 AM |
| Glew quote about amount of OoO | anon2 | 2017/05/02 12:57 AM |
| Glew quote about amount of OoO | Michael_S | 2017/05/02 05:24 AM |
| Glew quote about amount of OoO | Linus B Torvalds | 2017/05/02 10:07 AM |
| Glew quote about amount of OoO | Michael S | 2017/05/02 10:32 AM |
| Glew quote about amount of OoO | Linus B Torvalds | 2017/05/02 10:53 AM |
| Glew quote about amount of OoO | Michael S | 2017/05/02 11:05 AM |
| Glew quote about amount of OoO | dmcq | 2017/05/04 07:04 AM |
| Glew quote about amount of OoO | Ireland | 2017/05/04 10:00 AM |
| Glew quote about amount of OoO | Adrian | 2017/05/04 09:50 AM |
| Glew quote about amount of OoO | Ireland | 2017/05/04 10:04 AM |
| You're not alone! | iz | 2017/05/04 01:05 PM |
| You're not alone! | GTR | 2017/05/09 02:21 PM |
| Glew quote about amount of OoO | Ireland | 2017/05/02 11:52 AM |
| Glew quote about amount of OoO | Doug S | 2017/05/02 02:13 PM |
| Glew quote about amount of OoO | Maynard Handley | 2017/05/02 04:08 PM |
| Glew quote about amount of OoO | slacker | 2017/05/02 10:06 PM |
| Glew quote about amount of OoO | Brett | 2017/05/02 11:14 PM |
| Glew quote about amount of OoO | anonymouse | 2017/05/05 05:02 AM |
| Glew quote about amount of OoO | Maynard Handley | 2017/05/02 11:24 PM |
| Rigorous data | slacker | 2017/05/03 01:03 AM |
| Glew quote about amount of OoO | Symmetry | 2017/05/03 04:38 AM |
| Glew quote about amount of OoO | slacker | 2017/05/02 05:00 PM |
| Glew quote about amount of OoO | Linus B Torvalds | 2017/05/02 06:08 PM |
| Glew quote about amount of OoO | slacker | 2017/05/02 10:20 PM |
| Glew quote about amount of OoO | Symmetry | 2017/05/03 04:53 AM |
| Glew quote about amount of OoO | Gabriele Svelto | 2017/05/04 11:42 PM |
| Glew quote about amount of OoO | juanrga | 2017/05/03 01:32 AM |
| Latency versus Efficiency | Ireland | 2017/05/03 02:44 AM |
| Latency versus Efficiency | Ireland | 2017/05/03 02:49 AM |
| Latency versus Efficiency | juanrga | 2017/05/06 02:57 AM |
| Latency versus Efficiency | Linus B Torvalds | 2017/05/06 09:55 AM |
| Latency versus Efficiency | Ireland | 2017/05/06 10:37 AM |
| Efficiency != Throughput (NT) | juanrga | 2017/05/07 03:03 AM |
| Efficiency != Throughput | Linus B Torvalds | 2017/05/07 08:18 AM |
| Efficiency != Throughput | Adrian | 2017/05/07 10:10 AM |
| Efficiency != Throughput | anon | 2017/05/07 04:04 PM |
| Efficiency != Throughput | Jacob Marley | 2017/05/07 05:48 PM |
| Efficiency != Throughput | Anne O. Nymous | 2017/05/08 02:25 AM |
| Crocodilia | slacker | 2017/05/08 02:39 AM |
| Crocodilia | anon | 2017/05/08 02:59 AM |
| Efficiency != Throughput | Linus B Torvalds | 2017/05/08 10:17 AM |
| Efficiency != Throughput | Ireland | 2017/05/08 12:44 PM |
| Efficiency != Throughput | Domaldel | 2017/05/08 10:30 PM |
| Efficiency != Throughput | Ireland | 2017/05/07 11:28 AM |
| Efficiency != Throughput | Domaldel | 2017/05/08 10:35 PM |
| Efficiency != Throughput | Domaldel | 2017/05/08 10:19 PM |
| Efficiency != Throughput | Linus B Torvalds | 2017/05/09 08:47 AM |
| Efficiency != Throughput | Ireland | 2017/05/09 11:22 AM |
| analogy | Michael S | 2017/05/10 04:05 AM |
| analogy | Ireland | 2017/05/10 05:25 AM |
| It is not "high-performance vs low-performance" | juanrga | 2017/05/09 02:37 AM |
| It is not "high-performance vs low-performance" | anon | 2017/05/09 04:51 PM |
| It is not "high-performance vs low-performance" | juanrga | 2017/05/12 05:57 PM |
| It is not "high-performance vs low-performance" | Anon | 2017/05/10 06:25 AM |
| It IS "high-performance vs low-performance" | Heikki Kultala | 2017/05/10 08:20 PM |
| Latency versus Efficiency | Symmetry | 2017/05/08 05:40 AM |
| Latency versus Efficiency | Gabriele Svelto | 2017/05/08 07:56 AM |
| Latency versus Efficiency | juanrga | 2017/05/09 01:29 AM |
| Latency versus Efficiency | GTR | 2017/05/09 02:17 PM |
| Latency versus Efficiency | anon | 2017/05/09 02:46 PM |
| Latency versus Efficiency | Maynard Handley | 2017/05/09 04:15 PM |
| Glew quote about amount of OoO | anonymouse | 2017/05/05 03:17 PM |
| Glew quote about amount of OoO | juanrga | 2017/05/06 02:57 AM |
| Glew quote about amount of OoO | Etienne | 2017/05/08 12:57 AM |
| Glew quote about amount of OoO | Gabriele Svelto | 2017/05/08 05:21 AM |
| Glew quote about amount of OoO | GTR | 2017/05/09 02:09 PM |
| your 3x is total bullshit | Heikki kultala | 2017/05/02 12:30 PM |
| your 3x is total bullshit | Wilco | 2017/05/02 01:58 PM |
| your 3x is total bullshit | Michael S | 2017/05/02 02:58 PM |
| your 3x is total bullshit | Wilco | 2017/05/03 02:13 AM |
| your 3x is total bullshit | Michael S | 2017/05/03 03:43 AM |
| your 3x is total bullshit | Michael S | 2017/05/03 05:15 AM |
| your 3x is total bullshit | Wilco | 2017/05/03 01:31 PM |
| your 3x is total bullshit | Michael S | 2017/05/04 06:56 AM |
| your 3x is total bullshit | Linus B Torvalds | 2017/05/04 09:46 AM |
| your 3x is total bullshit | Maynard Handley | 2017/05/02 04:19 PM |
| your 3x is total bullshit | Heikki kultala | 2017/05/02 09:57 PM |
| your 3x is total bullshit | Gabriele Svelto | 2017/05/05 05:32 AM |
| your 3x is total bullshit | juanrga | 2017/05/06 02:45 AM |
| your 3x is total bullshit | Gabriele Svelto | 2017/05/08 05:12 AM |
| Or, alternatively, your 65% is bullshit. | Heikki kultala | 2017/05/02 12:37 PM |
| Or, alternatively, your 65% is bullshit. | Wilco | 2017/05/02 02:39 PM |
| Going from 2-wide in-order to 2-wide OoOE benchmarks.. | Heikki kultala | 2017/05/02 12:42 PM |
| Going from 2-wide in-order to 2-wide OoOE benchmarks.. | Megol | 2017/05/13 12:26 PM |
| Going from 2-wide in-order to 2-wide OoOE benchmarks.. | Michael S | 2017/05/13 01:14 PM |
| Glew quote about amount of OoO | Michael S | 2017/04/28 04:12 AM |
| Glew quote about amount of OoO | Gabriele Svelto | 2017/04/28 04:25 AM |
| Glew quote about amount of OoO | Linus Torvalds | 2017/04/28 08:47 AM |
| Glew quote about amount of OoO | Etienne | 2017/05/02 07:36 AM |
| Glew quote about amount of OoO | Maynard Handley | 2017/04/28 01:02 AM |
| Glew quote about amount of OoO | wumpus | 2017/04/28 06:54 PM |
| 3-wide in-order | Michael S | 2017/05/02 02:51 AM |
| 3-wide in-order | wumpus | 2017/05/03 06:24 AM |
| Merced is actually 6-way core (NT) | Michael S | 2017/05/03 10:35 AM |
| only on a really good day | someone | 2017/05/04 07:11 AM |
| It's the memory! stupid. | gallier2 | 2017/04/28 07:56 AM |
| Merced is actually 6-way core (NT) | Michael S | 2017/05/03 06:47 AM |
| Glew quote about amount of OoO | Mr. Camel | 2017/04/28 12:55 PM |
| Glew quote about amount of OoO | Maynard Handley | 2017/04/28 02:00 PM |
| Glew quote about amount of OoO | Linus B Torvalds | 2017/04/29 12:58 PM |
| Glew quote about amount of OoO | Ireland | 2017/04/29 01:38 PM |
| P4 part is complete bullshit (NT) | Michael S | 2017/04/29 02:04 PM |
| Glew quote about amount of OoO | Mr. Camel | 2017/04/29 02:22 PM |
| Glew quote about amount of OoO | Linus B Torvalds | 2017/04/29 02:46 PM |
| Glew quote about amount of OoO | Ireland | 2017/04/29 03:06 PM |
| Glew quote about amount of OoO | Anil Maliyekkel | 2017/04/29 04:04 PM |
| Glew quote about amount of OoO | Gabriele Svelto | 2017/04/30 05:59 AM |
| License-optimized core designs | GTR | 2017/05/09 01:18 PM |
| License-optimized core designs | Simon Farnsworth | 2017/05/10 01:33 AM |
| Glew quote about amount of OoO | anon.1 | 2017/04/26 10:15 PM |
| Glew quote about amount of OoO | anon | 2017/04/27 12:14 AM |
| Jetson TX2 Linux Benchmarks on phoronix | Michael S | 2017/04/27 01:02 AM |
| Jetson TX2 Linux Benchmarks on phoronix | Michael S | 2017/04/27 01:04 AM |
| Jetson TX2 Linux Benchmarks on phoronix | anon | 2017/04/27 01:49 AM |
| Jetson TX2 Linux Benchmarks on phoronix | Michael S | 2017/04/27 03:41 AM |
| Jetson TX2 Linux Benchmarks on phoronix | anon | 2017/04/27 04:15 AM |
| Jetson TX2 Linux Benchmarks on phoronix | Michael S | 2017/04/27 05:10 AM |
| Jetson TX2 Linux Benchmarks on phoronix | anon | 2017/04/27 06:02 AM |
| Glew quote about amount of OoO | wumpus | 2017/04/27 06:48 AM |
| Glew quote about amount of OoO | anon | 2017/04/27 08:49 AM |
| Glew quote about amount of OoO | anon.1 | 2017/04/27 09:47 PM |
| Glew quote about amount of OoO | wumpus | 2017/04/28 06:49 AM |
| Glew quote about amount of OoO | Heikki kultala | 2017/04/30 12:13 AM |
| Glew quote about amount of OoO | anon | 2017/04/30 02:27 AM |
| Glew quote about amount of OoO | anon.1 | 2017/04/27 07:16 AM |
| Glew quote about amount of OoO | anon | 2017/04/27 08:44 AM |
| Glew quote about amount of OoO | Symmetry | 2017/04/27 09:48 AM |
| Glew quote about amount of OoO | Ireland | 2017/04/26 03:55 PM |
| Glew quote about amount of OoO | Ireland | 2017/04/26 04:16 PM |
| Glew quote about amount of OoO | Ireland | 2017/04/26 04:41 PM |
| Glew quote about amount of OoO | juanrga | 2017/04/28 04:22 AM |
| Glew quote about amount of OoO | Heikki kultala | 2017/04/29 08:14 AM |
| Glew quote about amount of OoO | juanrga | 2017/04/30 03:44 AM |
| Glew quote about amount of OoO | David Hess | 2017/04/30 12:28 PM |
| Glew quote about amount of OoO | Ireland | 2017/04/30 03:15 PM |
| Glew quote about amount of OoO | Ireland | 2017/04/30 03:31 PM |
| Glew quote about amount of OoO | Michael S | 2017/04/30 03:50 PM |
| Glew quote about amount of OoO | Ireland | 2017/05/01 09:21 AM |
| Glew quote about amount of OoO | Maynard Handley | 2017/05/01 12:54 PM |
| Glew quote about amount of OoO | Michael S | 2017/05/01 01:15 PM |
| Mill is optimized for frequent calls | Henry S | 2017/04/21 01:27 AM |
| spiller | RichardC | 2017/04/21 06:53 AM |
| spiller documentation | RichardC | 2017/04/21 07:04 AM |
| spiller | Symmetry | 2017/04/21 07:47 AM |
| spiller | Symmetry | 2017/04/21 07:51 AM |
| Mill made more sense in 2003 | wumpus | 2017/04/21 06:59 AM |
| Mill made more sense in 2003 | wumpus | 2017/04/20 06:58 AM |
| Mill made more sense in 2003 | anon | 2017/04/18 07:02 PM |
| virtual method calls | RichardC | 2017/04/19 07:50 AM |
| fractional bits | rwessel | 2017/04/17 01:14 AM |
| fractional bits | Michael S | 2017/04/17 11:50 AM |
| fractional bits | Eugene Nalimov | 2017/04/17 07:25 PM |
| fractional bits | Megol | 2017/04/16 02:05 PM |
| fractional bits | dmcq | 2017/04/17 02:04 AM |
| fractional bits | Gabriele Svelto | 2017/04/17 09:09 AM |
| fractional bits | Maynard Handley | 2017/04/17 10:53 AM |
| fractional bits | anon | 2017/04/17 01:29 PM |
| fractional bits | anon.1 | 2017/04/23 01:44 PM |
| fractional bits | Maynard Handley | 2017/04/23 02:19 PM |
| fractional bits | anon.1 | 2017/04/23 10:09 PM |
| fractional bits | Maynard Handley | 2017/04/24 12:07 AM |
| Excellent example | Henry S | 2017/04/21 01:02 PM |
| Excellent example | anon.1 | 2017/04/23 12:50 PM |
| I don't think that's the issue | Henry S | 2017/04/25 09:22 AM |
| I don't think that's the issue | anon.1 | 2017/04/25 07:45 PM |
| I don't think that's the issue | Maynard Handley | 2017/04/25 09:59 PM |
| I don't think that's the issue | anon.1 | 2017/04/26 09:47 PM |
| I don't think that's the issue | Maynard Handley | 2017/04/27 09:59 AM |
| I don't think that's the issue | anon.1 | 2017/04/27 09:32 PM |
| I don't think that's the issue | Maynard Handley | 2017/04/27 10:24 PM |
| I don't think that's the issue | anon.1 | 2017/04/28 06:51 AM |
| I don't think that's the issue | anon.1 | 2017/04/28 07:20 AM |
| Hierarchical and distributed | Paul A. Clayton | 2017/04/30 05:54 PM |
| Hierarchical and distributed | anon.1 | 2017/05/01 09:25 AM |
| Hierarchical and distributed | Maynard Handley | 2017/05/01 01:07 PM |
| fractional bits | anon | 2017/04/16 04:31 PM |
| OoO instruction window | Paul A. Clayton | 2017/04/17 05:43 PM |
| OoO instruction window | anon | 2017/04/17 06:57 PM |
| OoO instruction window | Maynard Handley | 2017/04/17 09:16 PM |
| OoO instruction window | anon | 2017/04/18 01:51 AM |
| OoO instruction window | wumpus | 2017/04/19 06:16 AM |
| Initiating post-return loads early | Paul A. Clayton | 2017/04/18 07:39 AM |
| Initiating post-return loads early | anon | 2017/04/18 05:28 PM |
| Software assisted prefetching | Paul A. Clayton | 2017/04/18 07:13 PM |
| Software assisted prefetching | Maynard Handley | 2017/04/18 09:04 PM |
| Software assisted prefetching | Michael S | 2017/04/19 12:49 AM |
| fractional bits | Ungo | 2017/04/17 07:03 PM |
| fractional bits | Megol | 2017/04/16 01:33 PM |
| fractional bits | RichardC | 2017/04/16 01:43 PM |
| fractional bits | Brett | 2017/04/15 11:48 AM |
| RISC wars | Michael S | 2017/04/15 12:04 PM |
| RISC wars | Brett | 2017/04/15 03:18 PM |
| RISC wars | dmcq | 2017/04/16 03:36 AM |
| RISC wars | Brett | 2017/04/16 02:02 PM |
| RISC wars | Maynard Handley | 2017/04/16 04:48 PM |
| RISC wars | Brett | 2017/04/16 06:56 PM |
| RISC wars | Maynard Handley | 2017/04/16 08:45 PM |
| RISC wars | Brett | 2017/04/17 12:51 AM |
| RISC wars | Simon Farnsworth | 2017/04/17 04:51 AM |
| RISC wars | dmcq | 2017/04/17 05:24 AM |
| RISC wars | Brett | 2017/04/22 01:36 PM |
| RISC wars | Maynard Handley | 2017/04/22 02:14 PM |
| RISC wars | Brett | 2017/04/22 04:54 PM |
| RISC wars | Maynard Handley | 2017/04/22 08:17 PM |
| POWER8 - frequency, rename width | Michael S | 2017/04/23 12:47 AM |
| POWER8 - frequency, rename width | dmcq | 2017/04/23 09:01 AM |
| POWER8 - frequency, rename width | rwessel | 2017/04/23 09:10 AM |
| POWER8 - frequency, rename width | Maynard Handley | 2017/04/23 10:11 AM |
| POWER8 - frequency, rename width | Travis | 2017/04/23 02:31 PM |
| POWER8 - frequency, rename width | Maynard Handley | 2017/04/23 09:25 AM |
| POWER8 - frequency, rename width | Maynard Handley | 2017/04/23 10:30 AM |
| POWER8 is 2x(3+1), not 6+2 | anon | 2017/04/23 11:47 AM |
| POWER8 is 2x(3+1), not 6+2 | Travis | 2017/04/23 02:42 PM |
| exactly (NT) | Michael S | 2017/04/23 03:33 PM |
| POWER8 is 2x(3+1), not 6+2 | anon | 2017/04/23 03:44 PM |
| Alpha 21264 (duplicated GPRs) was utter insane?! (I think not) (NT) | Paul A. Clayton | 2017/04/23 05:58 PM |
| done for different reasons | anon | 2017/04/24 12:00 AM |
| Additive clustering/replication advantages? | Paul A. Clayton | 2017/04/24 08:34 AM |
| Additive clustering/replication advantages? | anon | 2017/04/25 04:43 PM |
| Additive clustering/replication advantages? | anon2 | 2017/04/26 04:17 AM |
| Additive clustering/replication advantages? | anon | 2017/04/26 05:13 AM |
| Additive clustering/replication advantages? | anon2 | 2017/04/26 05:00 PM |
| Additive clustering/replication advantages? | anon | 2017/04/27 03:08 AM |
| Additive clustering/replication advantages? | anon2 | 2017/04/27 04:57 AM |
| Additive clustering/replication advantages? | anon | 2017/04/27 07:05 AM |
| Additive clustering/replication advantages? | Michael S | 2017/04/27 07:09 AM |
| Additive clustering/replication advantages? | anon | 2017/04/27 08:21 AM |
| Additive clustering/replication advantages? | anon2 | 2017/04/27 09:07 AM |
| Additive clustering/replication advantages? | anon | 2017/04/27 10:54 AM |
| Additive clustering/replication advantages? | anon2 | 2017/04/27 12:05 PM |
| Additive clustering/replication advantages? | anon | 2017/04/27 01:52 PM |
| Additive clustering/replication advantages? | anon2 | 2017/04/27 02:28 PM |
| Additive clustering/replication advantages? | anon | 2017/04/28 04:14 AM |
| Additive clustering/replication advantages? | anon2 | 2017/04/29 06:23 PM |
| POWER8 is 2x(3+1), not 6+2 | anon | 2017/04/23 09:12 PM |
| POWER8 is 2x(3+1), not 6+2 | anon | 2017/04/24 12:04 AM |
| POWER8 is 2x(3+1), not 6+2 | anon | 2017/04/24 01:26 AM |
| schizo | Michael S | 2017/04/24 02:02 AM |
| no (NT) | anon | 2017/04/24 02:10 AM |
| POWER8 is 2x(3+1), not 6+2 | Brett | 2017/04/24 08:55 PM |
| POWER8 is 2x(3+1), not 6+2 | anon | 2017/04/24 11:49 PM |
| incorrect POWER6 info | Thu Nguyen | 2017/04/24 10:39 PM |
| incorrect POWER6 info | Michael S | 2017/04/24 11:59 PM |
| RISC wars | Brett | 2017/04/23 03:35 PM |
| RISC wars | Brett | 2017/04/24 12:25 AM |
| RISC wars | Brett | 2017/04/24 09:33 PM |
| RISC wars | anon | 2017/04/23 05:51 PM |
| Instruction Grouping is gone with POWER9 | Mark Roulo | 2017/04/24 03:39 PM |
| RISC wars | Michael S | 2017/04/23 01:25 AM |
| RISC wars | dmcq | 2017/04/25 08:06 AM |
| RISC wars | dmcq | 2017/04/17 01:55 AM |
| Chains of single opcodes are stupid | Brett | 2017/04/23 06:52 PM |
| Chains of single opcodes are stupid | wumpus | 2017/04/25 06:48 AM |
| Chains of single opcodes are stupid | Heikki kultala | 2017/04/26 12:42 AM |
| Chains of single opcodes are stupid | Brett | 2017/05/05 11:36 PM |
| Chains of single opcodes are stupid | Brett | 2017/05/06 11:29 PM |
| What 24-bit branches are you talking about? | Heikki Kultala | 2017/05/07 08:44 PM |
| What 24-bit branches are you talking about? | Brett | 2017/05/08 01:48 AM |
| What 24-bit branches are you talking about? | anon | 2017/05/08 10:24 AM |
| What 24-bit branches are you talking about? | Brett | 2017/05/09 10:33 PM |
| What 24-bit branches are you talking about? | anon | 2017/05/10 03:30 AM |
| Branches and OS calls ... | Mark Roulo | 2017/05/10 03:12 PM |
| Branches and OS calls ... | Brett | 2017/05/10 07:40 PM |
| Code density | Heikki Kultala | 2017/05/07 08:03 PM |
| Code density | Brett | 2017/05/08 01:52 AM |
| Chains of single opcodes are stupid | Brett | 2017/04/27 12:02 AM |
| Chains of single opcodes are stupid | wumpus | 2017/04/27 07:06 AM |
| Chains of single opcodes are stupid | anon | 2017/04/27 08:33 AM |
| Chains of single opcodes are stupid | Brett | 2017/04/27 10:57 AM |
| Chains of single opcodes are stupid | Adrian | 2017/04/27 11:21 AM |
| Chains of single opcodes are stupid | Brett | 2017/04/28 10:47 PM |
| You sound like a fool (NT) | anon2 | 2017/04/29 12:12 AM |
| You sound like a fool | Brett | 2017/04/29 01:20 AM |
| You sound like a fool | anon2 | 2017/04/29 03:03 AM |
| You sound like a fool | Brett | 2017/04/29 11:24 PM |
| You sound like a fool | Michael S | 2017/04/30 12:36 AM |
| You sound like a fool | Brett | 2017/04/30 02:56 PM |
| You sound like a fool | Michael S | 2017/04/30 04:14 PM |
| You sound like a fool | Brett | 2017/04/30 05:03 PM |
| Laptop CPUs | anon2 | 2017/04/30 06:10 PM |
| Chains of single opcodes are stupid | Adrian | 2017/04/29 04:38 AM |
| Chains of single opcodes are stupid | anon | 2017/04/27 11:34 AM |
| Chains of single opcodes are stupid | Brett | 2017/04/27 11:35 PM |
| 8088, 8086 and 16-bitness | Heikki Kultala | 2017/04/28 05:45 AM |
| 8088, 8086 and 16-bitness | Michael S | 2017/04/28 06:10 AM |
| 8088, 8086 and 16-bitness | Brett | 2017/04/28 08:57 AM |
| 8088, 8086 and 16- and 20-bitness | Heikki kultala | 2017/04/28 10:56 AM |
| doubling momory capasity every 2 years I mean (NT) | Heikki kultala | 2017/04/28 10:57 AM |
| 8088, 8086 and 16- and 20-bitness | Brett | 2017/04/28 07:46 PM |
| 8088, 8086 and 16- and 20-bitness | Yuhong Bao | 2017/04/28 10:17 PM |
| 8088, 8086 and 16-bitness | rwessel | 2017/04/28 12:21 PM |
| 8088, 8086 and 16-bitness | wumpus | 2017/04/28 07:10 PM |
| 8088, 8086 and 16-bitness | anon2 | 2017/04/29 12:02 AM |
| 8088, 8086 and 16-bitness | Seni | 2017/04/29 04:59 AM |
| Chains of single opcodes are stupid | Brett | 2017/05/05 10:56 PM |
| Chains of single opcodes are stupid | wumpus | 2017/05/06 05:39 PM |
| Chains of single opcodes are stupid | Brett | 2017/04/28 10:32 PM |
| patents, alpha etc. | Heikki kultala | 2017/04/29 08:07 AM |
| patents, alpha etc. | wumpus | 2017/04/29 10:23 AM |
| patents, alpha etc. | Megol | 2017/05/10 07:27 AM |
| patents, alpha etc. | rwessel | 2017/05/10 11:09 AM |
| patents, alpha etc. | David Hess | 2017/05/10 06:18 PM |
| patents, alpha etc. | Heikki Kultala | 2017/05/10 10:59 PM |
| patents, alpha etc. | anonny mouse | 2017/05/11 12:30 AM |
| patents, alpha etc. | Megol | 2017/05/11 04:49 AM |
| pipelining/OoOE and indirect addressing problem | Heikki Kultala | 2017/05/11 06:42 AM |
| pipelining/OoOE and indirect addressing problem | TEMLIB | 2017/05/11 11:18 AM |
| patents, alpha etc. | rwessel | 2017/05/11 02:28 PM |
| patents, alpha etc. | gallier2 | 2017/05/12 12:32 AM |
| patents, alpha etc. | TEMLIB | 2017/05/11 11:22 AM |
| patents, alpha etc. | Linus B Torvalds | 2017/05/12 08:25 AM |
| Chains of single opcodes are stupid | Brett | 2017/04/29 11:49 PM |
| programming language of the future | Carlie Coats | 2017/05/11 05:58 AM |
| Fractional bits for instruction encoding | dmcq | 2017/04/13 05:35 AM |
| Sounds like a FP counter with random rounding (NT) | Paul A. Clayton | 2017/04/13 06:08 PM |
| Sounds like a FP counter with random rounding | dmcq | 2017/04/14 11:35 AM |
| RISC *was* science, not religion | Megol | 2017/04/12 02:13 PM |
| Mill load buffer and spill | Paul A. Clayton | 2017/04/12 06:02 PM |
| RISC *was* science, not religion | Michael S | 2017/04/09 02:51 AM |
| RISC *was* science, not religion | anon | 2017/04/09 07:30 AM |
| ARM vs RISC religion | Heikki Kultala | 2017/04/04 06:58 AM |
| religious vs atheist or SF Bay Area vs Rest of the World (NT) | Michael S | 2017/04/04 07:25 AM |
| ARM vs RISC religion | RichardC | 2017/04/04 07:44 AM |
| ARM vs RISC religion | Etienne | 2017/04/04 08:22 AM |
| ARM vs RISC religion | RichardC | 2017/04/04 08:39 AM |
| ARM vs RISC religion | Exophase | 2017/04/04 06:54 PM |
| that's a neat trick! (NT) | RichardC | 2017/04/04 07:34 PM |
| ARM vs RISC religion | dmcq | 2017/04/04 08:37 AM |
| ARM vs RISC religion | wumpus | 2017/04/05 06:14 AM |
| RISC *was* science, not religion | Ireland | 2017/04/04 08:14 AM |
| RISC *was* science, not religion | Ireland | 2017/04/04 02:12 PM |
| RISC *was* science, not religion | Ireland | 2017/04/04 02:14 PM |
| RISC *was* science, not religion | Linus Torvalds | 2017/04/04 10:10 AM |
| RISC *was* science, not religion | Michael S | 2017/04/04 10:24 AM |
| RISC *was* science, not religion | Exophase | 2017/04/04 09:05 PM |
| RISC *was* science, not religion | Michael S | 2017/04/05 12:58 AM |
| RISC *was* science, not religion | Exophase | 2017/04/05 10:07 AM |
| RISC *was* science, not religion | Michael S | 2017/04/05 02:38 PM |
| Load delay slot new value after cache miss | Paul A. Clayton | 2017/04/06 09:29 AM |
| Load delay slot new value after cache miss | Exophase | 2017/04/06 02:05 PM |
| unspcified behaviour load delay slot pessimality | Heikki Kultala | 2017/04/04 10:14 PM |
| RISC *was* science, not religion | Simon Farnsworth | 2017/04/06 04:18 AM |
| RISC *was* science, not religion | RichardC | 2017/04/06 08:54 AM |
| RISC *was* science, not religion | Simon Farnsworth | 2017/04/06 10:51 AM |
| RISC *was* science, not religion | dmcq | 2017/04/06 02:55 PM |
| RISC *was* science, not religion | Etienne | 2017/04/07 03:36 AM |
| RISC *was* science, not religion | RichardC | 2017/04/04 10:58 AM |
| RISC *was* science, not religion | Ireland | 2017/04/04 02:20 PM |
| RISC *was* science, not religion | Ireland | 2017/04/04 02:40 PM |
| RISC *was* science, not religion | bakaneko | 2017/04/04 11:52 PM |
| RISC *was* science, not religion | Ireland | 2017/04/05 12:04 PM |
| RISC *was* science, not religion | gallier2 | 2017/04/05 04:06 AM |
| RISC *was* science, not religion | RichardC | 2017/04/05 08:14 AM |
| RISC *was* science, not religion | Simon Farnsworth | 2017/04/05 10:01 AM |
| RISC *was* science, not religion | Seni | 2017/04/05 11:26 AM |
| RISC *was* science, not religion | David Hess | 2017/04/05 10:36 PM |
| RISC *was* science, not religion | RichardC | 2017/04/06 11:32 AM |
| RISC *was* science, not religion | Exophase | 2017/04/06 02:07 PM |
| RISC *was* science, not religion | Linus Torvalds | 2017/04/06 02:27 PM |
| Intel x86 registers to the rescue! | Mark Roulo | 2017/04/06 02:45 PM |
| Intel x86 registers to the rescue! | Linus Torvalds | 2017/04/06 03:25 PM |
| Intel x86 registers to the rescue! | John Yates | 2017/04/06 04:51 PM |
| Intel x86 registers to the rescue! | David Hess | 2017/04/08 05:49 AM |
| Intel x86 registers to the rescue! | Ireland | 2017/04/08 03:47 PM |
| Intel x86 registers to the rescue! | wumpus | 2017/04/08 05:51 PM |
| Intel x86 registers to the rescue! | David Hess | 2017/04/09 02:57 PM |
| Memory lane | John Yates | 2017/04/11 01:24 PM |
| Memory lane | someone | 2017/04/12 05:27 AM |
| Memory lane | John Yates | 2017/04/12 02:01 PM |
| Memory lane | Ireland | 2017/04/12 10:23 AM |
| Intel x86 registers to the rescue! | dmcq | 2017/04/06 11:47 PM |
| RISC *was* science, not religion | David Hess | 2017/04/08 05:16 AM |
| RISC *was* science, not religion | gallier2 | 2017/04/05 10:49 PM |
| 6502 = accumulator machine (NT) | Wilco | 2017/04/06 02:22 AM |
| RISC *was* science, not religion | gallier2 | 2017/04/05 11:12 PM |
| same difference ... | RichardC | 2017/04/06 11:57 AM |
| RISC *was* science, not religion | Ronald Maas | 2017/04/04 08:04 PM |
| RISC *was* science, not religion | dmcq | 2017/04/05 11:03 AM |
| RISC *was* science, not religion | Adrian | 2017/04/05 01:24 PM |
| RISC *was* science, not religion | gallier2 | 2017/04/05 11:33 PM |
| RISC *was* science, not religion | Ronald Maas | 2017/04/08 08:07 AM |
| RISC *was* science, not religion | John Yates | 2017/04/05 02:39 PM |
| RISC *was* science, not religion | RichardC | 2017/04/07 02:30 PM |
| RISC *was* science, not religion | wumpus | 2017/04/08 07:41 AM |
| RISC *was* science, not religion | Linus Torvalds | 2017/04/08 10:43 AM |
| RISC *was* science, not religion | anon | 2017/04/08 07:53 PM |
| RISC *was* science, not religion | Linus Torvalds | 2017/04/09 07:52 AM |
| VAX/VMS compatibility | RichardC | 2017/04/09 06:54 AM |
| VAX/VMS compatibility | Ireland | 2017/04/09 07:19 AM |
| VAX/VMS compatibility | Michael S | 2017/04/09 07:20 AM |
| VAX/VMS compatibility | RichardC | 2017/04/09 07:32 AM |
| VAX/VMS compatibility | dmcq | 2017/04/09 07:47 AM |
| I suppose, you are only familiar with British mainfraimes (NT) | Michael S | 2017/04/09 07:55 AM |
| I suppose, you are only familiar with British mainfraimes | dmcq | 2017/04/09 04:12 PM |
| VAX/VMS compatibility | Ireland | 2017/04/09 08:08 AM |
| VAX/VMS compatibility | rwessel | 2017/04/09 08:51 AM |
| VAX/VMS compatibility | Ireland | 2017/04/09 11:35 AM |
| VAX/VMS compatibility | anon | 2017/04/09 05:24 PM |
| VAX/VMS compatibility | Ireland | 2017/04/09 05:47 PM |
| VAX/VMS compatibility | anon | 2017/04/09 06:29 PM |
| VAX/VMS compatibility | Ireland | 2017/04/09 06:43 PM |
| Ireland = AI bot | anonymou5 | 2017/04/10 04:21 AM |
| That joke is getting old (NT) | Anon | 2017/04/11 12:23 AM |
| It isn't 100% a joke. | Mark Roulo | 2017/04/11 06:13 AM |
| It isn't 100% a joke. | Michael_S | 2017/04/11 09:19 AM |
| It isn't 100% a joke. | Ireland | 2017/04/11 09:48 AM |
| It isn't 100% a joke. | anonymou5 | 2017/04/12 08:40 PM |
| It isn't 100% a joke. | Dan Downs | 2017/04/11 03:05 PM |
| Shaka, when the walls fell (NT) | Darmok | 2017/04/11 11:19 PM |
| It isn't 100% a joke. | Brendan | 2017/04/13 04:34 AM |
| Can Someone Fix "Greater Than/Less Than" Handling Bugs?? | Brendan | 2017/04/13 04:38 AM |
| 6th decade | Michael S | 2017/04/13 05:34 AM |
| 6th decade | Ireland | 2017/04/13 09:17 AM |
| It isn't 100% a joke. | Gabriele Svelto | 2017/04/15 07:14 AM |
| It isn't 100% a joke. | dmcq | 2017/04/16 04:09 AM |
| It isn't 100% a joke. | Brendan | 2017/04/16 02:01 PM |
| The less loquacious left it alone (NT) | Anon | 2017/04/17 11:49 PM |
| To Wit, many here.. | John H | 2017/04/12 10:40 AM |
| To Wit, many here.. | Ireland | 2017/04/12 10:54 AM |
| VAX/VMS compatibility | dmcq | 2017/04/09 04:02 PM |
| VAX/VMS compatibility | Ireland | 2017/04/09 04:19 PM |
| VAX/VMS compatibility | rwessel | 2017/04/09 09:20 PM |
| VAX/VMS compatibility | wumpus | 2017/04/10 05:14 AM |
| VAX/VMS compatibility | rwessel | 2017/04/10 07:10 AM |
| VAX/VMS compatibility | dmcq | 2017/04/10 09:11 AM |
| VAX/VMS compatibility | John Yates | 2017/04/12 06:42 PM |
| VAX/VMS compatibility | rwessel | 2017/04/12 08:19 PM |
| VAX/VMS compatibility | John Yates | 2017/04/12 08:41 PM |
| VAX/VMS development - thank you, John | Michael S | 2017/04/13 03:54 AM |
| VAX/VMS development - thank you, John | Rob Thorpe | 2017/04/14 07:19 AM |
| VAX/VMS development - thank you, John | John Yates | 2017/04/14 03:20 PM |
| VAX/VMS compatibility | dmcq | 2017/04/13 05:23 AM |
| RISC *was* science, not religion | anon | 2017/04/08 10:04 AM |
| RISC *was* science, not religion | Ireland | 2017/04/08 11:01 AM |
| RISC *was* science, not religion | wumpus | 2017/04/08 04:57 PM |
| RISC *was* science, not religion | anon | 2017/04/09 09:49 AM |
| RISC *was* science, not religion | Ricardo B | 2017/04/09 03:15 PM |
| RISC *was* science, not religion | anon | 2017/04/09 10:07 PM |
| RISC *was* science, not religion | Ricardo B | 2017/04/10 01:17 AM |
| RISC *was* science, not religion | anon | 2017/04/10 08:01 AM |
| RISC *was* science, not religion | Ricardo B | 2017/04/10 10:27 AM |
| RISC *was* science, not religion | anon | 2017/04/10 02:25 PM |
| RISC *was* science, not religion | Ricardo B | 2017/04/10 04:12 PM |
| RISC *was* science, not religion | anon.1 | 2017/04/10 09:54 PM |
| RISC *was* science, not religion | Ricardo B | 2017/04/11 02:14 AM |
| RISC *was* science, not religion | dmcq | 2017/04/11 02:44 AM |
| RISC *was* science, not religion | anon.1 | 2017/04/11 08:03 AM |
| RISC *was* science, not religion | Wilco | 2017/04/11 01:04 PM |
| RISC *was* science, not religion | anon | 2017/04/11 08:07 PM |
| RISC *was* science, not religion | Ricardo B | 2017/04/11 01:15 PM |
| RISC *was* science, not religion | rwessel | 2017/04/11 04:38 PM |
| RISC *was* science, not religion | anon | 2017/04/11 07:36 PM |
| RISC *was* science, not religion | Ricardo B | 2017/04/12 01:01 AM |
| RISC *was* science, not religion | Gabriele Svelto | 2017/04/12 01:38 AM |
| RISC *was* science, not religion | Travis | 2017/04/12 11:20 AM |
| RISC *was* science, not religion | anon.1 | 2017/04/11 09:54 PM |
| RISC *was* science, not religion | Ricardo B | 2017/04/12 12:52 AM |
| RISC *was* science, not religion | dmcq | 2017/04/12 03:27 AM |
| RISC *was* science, not religion | anon.1 | 2017/04/12 07:43 AM |
| RISC *was* science, not religion | anon.1 | 2017/04/12 10:03 AM |
| RISC *was* science, not religion | Michael S | 2017/04/11 01:32 PM |
| RISC *was* science, not religion | anon.1 | 2017/04/11 09:45 PM |
| RISC *was* science, not religion | Michael S | 2017/04/12 09:07 AM |
| RISC *was* science, not religion | gpd | 2017/04/12 01:31 AM |
| RISC *was* science, not religion | Travis | 2017/04/12 10:16 AM |
| RISC *was* science, not religion | Michael S | 2017/04/12 10:27 AM |
| RISC *was* science, not religion | Travis | 2017/04/12 11:02 AM |
| RISC *was* science, not religion | Michael S | 2017/04/12 11:46 AM |
| RISC *was* science, not religion | Travis | 2017/04/12 02:41 PM |
| RISC *was* science, not religion | Travis | 2017/04/12 10:33 AM |
| RISC *was* science, not religion | Michael S | 2017/04/12 11:56 AM |
| RISC *was* science, not religion | Travis | 2017/04/12 03:22 PM |
| RISC *was* science, not religion | Michael S | 2017/04/11 11:08 AM |
| RISC *was* science, not religion | anon | 2017/04/11 01:10 AM |
| RISC *was* science, not religion | Ricardo B | 2017/04/11 02:28 AM |
| RISC *was* science, not religion | anon | 2017/04/11 03:46 AM |
| RISC *was* science, not religion | matthew | 2017/04/11 07:59 AM |
| RISC *was* science, not religion | anon | 2017/04/11 12:28 PM |
| RISC *was* science, not religion | Michael S | 2017/04/11 10:41 AM |
| RISC *was* science, not religion | anon.1 | 2017/04/10 07:03 PM |
| RISC *was* science, not religion | Ricardo B | 2017/04/11 02:47 AM |
| RISC *was* science, not religion | bakaneko | 2017/04/03 10:45 PM |
| RISC *was* science, not religion | Michael S | 2017/04/04 12:45 AM |
| RISC *was* science, not religion | Ireland | 2017/04/04 08:30 AM |
| RISC *was* science, not religion | dmcq | 2017/04/04 08:43 AM |
| RISC *was* science, not religion | David Hess | 2017/04/05 01:18 AM |
| RISC *was* science, not religion | Michael S | 2017/04/05 03:02 AM |
| RISC *was* science, not religion | David Hess | 2017/04/05 12:54 AM |
| RISC *was* science, not religion | RichardC | 2017/04/05 03:31 AM |
| ARM solution and MIPS condition evaluation? | Heikki Kultala | 2017/04/05 04:23 AM |
| ARM solution and MIPS condition evaluation? | dmcq | 2017/04/05 06:34 AM |
| MIPS condition evaluation? | Heikki Kultala | 2017/04/05 07:28 AM |
| MIPS condition evaluation? | Michael S | 2017/04/05 09:28 AM |
| MIPS condition evaluation? | Heikki Kultala | 2017/04/05 09:55 AM |
| MIPS condition evaluation? | Michael S | 2017/04/05 11:12 AM |
| MIPS condition evaluation? | Heikki Kultala | 2017/04/05 11:54 AM |
| MIPS condition evaluation? | dmcq | 2017/04/05 12:02 PM |
| MIPS condition evaluation? | Heikki Kultala | 2017/04/05 12:03 PM |
| ARM solution and MIPS condition evaluation? | RichardC | 2017/04/05 08:18 AM |
| ARM solution and MIPS condition evaluation? | Linus Torvalds | 2017/04/05 10:20 AM |
| ARM solution and MIPS condition evaluation? | RichardC | 2017/04/05 12:23 PM |
| ARM solution and MIPS condition evaluation? | Linus Torvalds | 2017/04/05 04:51 PM |
| ARM solution and MIPS condition evaluation? | RichardC | 2017/04/05 08:06 PM |
| Transputer | RichardC | 2017/04/06 04:20 AM |
| ARM solution and MIPS condition evaluation? | Linus Torvalds | 2017/04/06 07:54 AM |
| ARM solution and MIPS condition evaluation? | RichardC | 2017/04/06 10:14 AM |
| ARM solution and MIPS condition evaluation? | Linus Torvalds | 2017/04/06 10:40 AM |
| ARM solution and MIPS condition evaluation? | RichardC | 2017/04/06 11:01 AM |
| your theory | RichardC | 2017/04/06 12:49 PM |
| your theory | Linus Torvalds | 2017/04/06 01:39 PM |
| your theory | Linus Torvalds | 2017/04/06 02:04 PM |
| your theory | Ireland | 2017/04/06 02:48 PM |
| Integrators of RISC cpu's interested only in software app sales | Ireland | 2017/04/06 04:11 PM |
| cheap machines with GUIs | RichardC | 2017/04/07 03:40 AM |
| compatibility and evolutionary strategy | RichardC | 2017/04/07 05:27 AM |
| 68K clones? | Michael S | 2017/04/07 05:40 AM |
| 68K clones? | Yuhong Bao | 2017/04/07 06:54 AM |
| Apollo core ... | Mark Roulo | 2017/04/07 09:28 AM |
| 68K clones? | Ronald Maas | 2017/04/07 05:07 PM |
| 68K clones? | Per Hesselgren | 2017/04/08 12:05 AM |
| 68K clones? | Per Hesselgren | 2017/04/08 12:06 AM |
| 68K clones? | Michael S | 2017/04/08 11:10 AM |
| compatibility and evolutionary strategy | Ireland | 2017/04/07 08:33 AM |
| compatibility and evolutionary strategy | Ireland | 2017/04/07 08:50 AM |
| high-margin products | RichardC | 2017/04/07 09:16 AM |
| high-margin products | Ireland | 2017/04/07 01:53 PM |
| high-margin products | wumpus | 2017/04/08 06:45 PM |
| high-margin products | RichardC | 2017/04/09 05:06 AM |
| high-margin products | Michael S | 2017/04/09 05:26 AM |
| high-margin products | Ireland | 2017/04/09 06:13 AM |
| high-margin products | wumpus | 2017/04/09 09:01 AM |
| user-visible ISA's still evolving | RichardC | 2017/04/09 07:09 AM |
| user-visible ISA's still evolving | Ireland | 2017/04/09 02:08 PM |
| Economics and doing a MIPS, SGI or 3dfx startup today . . . | Ireland | 2017/04/09 07:08 AM |
| Economics and doing a MIPS, SGI or 3dfx startup today . . . | bakaneko | 2017/04/09 09:45 AM |
| Economics and doing a MIPS, SGI or 3dfx startup today . . . | Ireland | 2017/04/09 12:32 PM |
| your theory | RichardC | 2017/04/06 03:57 PM |
| your theory | Ireland | 2017/04/06 04:29 PM |
| your theory | Ireland | 2017/04/06 04:45 PM |
| x86 ISA license history | RichardC | 2017/04/06 04:31 PM |
| x86 ISA license history | wumpus | 2017/04/07 06:35 AM |
| x86 ISA license history | RichardC | 2017/04/07 08:26 AM |
| 370 on 68K | Matt Sayler | 2017/04/06 04:38 PM |
| 370 on 68K | David Hess | 2017/04/08 09:18 AM |
| your theory | Linus Torvalds | 2017/04/06 06:20 PM |
| your theory | RichardC | 2017/04/06 07:34 PM |
| Intel's clone wars | RichardC | 2017/04/06 07:42 PM |
| your theory | Ireland | 2017/04/07 08:05 AM |
| your theory | rwessel | 2017/04/06 09:53 PM |
| your theory | gallier2 | 2017/04/07 01:13 AM |
| your theory | gallier2 | 2017/04/07 01:37 AM |
| your theory | Michael S | 2017/04/07 04:54 AM |
| your theory | gallier2 | 2017/04/07 08:57 AM |
| your theory | David Hess | 2017/04/08 09:26 AM |
| your theory | Yuhong Bao | 2017/04/08 09:28 AM |
| your theory | gallier2 | 2017/04/09 04:38 AM |
| your theory | Michael S | 2017/04/09 05:08 AM |
| your theory | rwessel | 2017/04/09 09:04 AM |
| your theory | David Hess | 2017/04/09 03:46 PM |
| your theory | rwessel | 2017/04/09 07:58 PM |
| your theory | David Hess | 2017/04/09 03:23 PM |
| your theory | RichardC | 2017/04/09 07:16 AM |
| your theory | David Hess | 2017/04/09 03:58 PM |
| Positive point about 80286 | Michael S | 2017/04/07 05:31 AM |
| Positive point about 80286 | gallier2 | 2017/04/07 09:00 AM |
| Positive point about 80286 | Yuhong Bao | 2017/04/07 01:43 PM |
| Positive point about 80286 | Per Hesselgren | 2017/04/08 12:16 AM |
| Positive point about 80286 | David Hess | 2017/04/08 09:49 AM |
| Positive point about 80286 | gallier2 | 2017/04/09 04:44 AM |
| Positive point about 80286 | Ireland | 2017/04/09 05:35 AM |
| Positive point about 80286 | gallier2 | 2017/04/09 06:18 AM |
| Positive point about 80286 | Ireland | 2017/04/09 06:30 AM |
| Positive point about 80286 | gallier2 | 2017/04/09 09:43 AM |
| Positive point about 80286 | David Hess | 2017/04/09 04:19 PM |
| Positive point about 80286 | Ireland | 2017/04/09 04:24 PM |
| Positive point about 80286 | David Hess | 2017/04/09 05:01 PM |
| Positive point about 80286 | Ireland | 2017/04/09 05:15 PM |
| Positive point about 80286 and Motorola | Per Hesselgren | 2017/04/09 11:22 PM |
| Positive point about 80286 and Motorola | Per Hesselgren | 2017/04/10 12:01 AM |
| Positive point about 80286 and Motorola | Per Hesselgren | 2017/04/10 12:39 PM |
| Positive point about 80286 and Motorola | Per Hesselgren | 2017/04/18 08:14 AM |
| Positive point about 80286 | gallier2 | 2017/04/09 11:26 PM |
| Positive point about 80286 | Michael_S | 2017/04/10 02:21 AM |
| Positive point about 80286 | David Hess | 2017/04/09 04:11 PM |
| Positive point about 80286 | gallier2 | 2017/04/10 12:15 AM |
| Positive point about 80286 | gallier2 | 2017/04/10 12:20 AM |
| Positive point about 80286 | rwessel | 2017/04/09 09:12 AM |
| Positive point about 80286 | gallier2 | 2017/04/09 10:38 AM |
| Positive point about 80286 | Ireland | 2017/04/09 11:17 AM |
| Positive point about 80286 | David Hess | 2017/04/09 04:40 PM |
| Positive point about 80286 | Ireland | 2017/04/09 04:48 PM |
| Positive point about 80286 | rwessel | 2017/04/09 10:05 PM |
| Positive point about 80286 | wumpus | 2017/04/10 05:31 AM |
| Positive point about 80286 | rwessel | 2017/04/10 06:37 AM |
| Positive point about 80286 | David Hess | 2017/04/10 08:53 AM |
| Positive point about 80286 | David Hess | 2017/04/09 04:51 PM |
| Positive point about 80286 | wumpus | 2017/04/11 05:41 AM |
| Positive point about 80286 | gallier2 | 2017/04/12 03:20 AM |
| Positive point about 80286 | Yuhong Bao | 2017/04/17 12:14 AM |
| Positive point about 80286 | David Hess | 2017/04/17 01:37 AM |
| Positive point about 80286 | Joe Hodge | 2017/04/17 05:54 PM |
| Positive point about 80286 | David Hess | 2017/04/09 04:05 PM |
| Positive point about 80286 | Ireland | 2017/04/09 04:13 PM |
| Positive point about 80286 | wumpus | 2017/04/09 04:22 PM |
| Positive point about 80286 | Ireland | 2017/04/09 04:43 PM |
| Positive point about 80286 | Ireland | 2017/04/09 04:59 PM |
| Positive point about 80286 | wumpus | 2017/04/09 04:17 PM |
| Positive point about 80286 | Ireland | 2017/04/09 04:20 PM |
| your theory | dmcq | 2017/04/07 12:04 AM |
| your theory | Gabriele Svelto | 2017/04/09 12:47 PM |
| your theory | Ireland | 2017/04/09 04:53 PM |
| your theory | rwessel | 2017/04/09 10:24 PM |
| ARM solution and MIPS condition evaluation? | Doug S | 2017/04/07 10:24 AM |
| ARM solution and MIPS condition evaluation? | Linus Torvalds | 2017/04/07 10:50 AM |
| ARM solution and MIPS condition evaluation? | Doug S | 2017/04/10 08:58 PM |
| ARM solution and MIPS condition evaluation? | Tim McCaffrey | 2017/04/06 05:32 PM |
| ARM solution and MIPS condition evaluation? | Doug S | 2017/04/05 10:58 PM |
| Are you sure about orders of magnitude? (NT) | Michael S | 2017/04/06 02:24 AM |
| ARM solution and MIPS condition evaluation? | Tim McCaffrey | 2017/04/06 05:21 PM |
| ARM solution and MIPS condition evaluation? | somebody | 2017/04/06 08:41 AM |
| ARM solution and MIPS condition evaluation? | Linus Torvalds | 2017/04/06 11:01 AM |
| ARM solution and MIPS condition evaluation? | Wilco | 2017/04/06 06:17 PM |
| ARM solution and MIPS condition evaluation? | Linus Torvalds | 2017/04/07 10:35 AM |
| ARM solution and MIPS condition evaluation? | Linus Torvalds | 2017/04/07 11:20 AM |
| ARM solution and MIPS condition evaluation? | Exophase | 2017/04/07 12:22 PM |
| ARM solution and MIPS condition evaluation? | Linus Torvalds | 2017/04/08 12:32 AM |
| Software FP vs trap emulation | Wilco | 2017/04/08 04:20 AM |
| Software FP vs trap emulation | Ronald Maas | 2017/04/08 07:45 AM |
| Software FP vs trap emulation | dmcq | 2017/04/08 09:29 AM |
| Software FP vs trap emulation | dmcq | 2017/04/08 09:44 AM |
| Software FP vs trap emulation | Wilco | 2017/04/08 04:24 PM |
| Software FP vs trap emulation | Linus Torvalds | 2017/04/08 09:52 AM |
| Software FP vs trap emulation | Ireland | 2017/04/08 10:46 AM |
| Software FP vs trap emulation | Michael S | 2017/04/08 12:23 PM |
| Software FP vs trap emulation | Linus Torvalds | 2017/04/08 02:38 PM |
| Software FP vs trap emulation | Michael S | 2017/04/08 03:23 PM |
| Software FP vs trap emulation | @ | 2017/04/08 05:17 PM |
| Software FP vs trap emulation | Linus Torvalds | 2017/04/09 07:59 AM |
| Software FP vs trap emulation | Ireland | 2017/04/09 08:20 AM |
| Software FP vs trap emulation | Ireland | 2017/04/09 08:35 AM |
| Software FP vs trap emulation | rwessel | 2017/04/09 09:27 AM |
| Software FP vs trap emulation | Ireland | 2017/04/09 12:49 PM |
| Software FP vs trap emulation | @ | 2017/04/09 10:59 AM |
| Software FP vs trap emulation | Michael S | 2017/04/08 11:46 AM |
| Software FP vs trap emulation | Wilco | 2017/04/08 04:01 PM |
| Software FP vs trap emulation | Brett | 2017/04/08 10:30 PM |
| Software FP vs trap emulation | matthew | 2017/04/09 12:14 AM |
| Software FP vs trap emulation | Wilco | 2017/04/09 06:10 AM |
| Acorn vs DEC | RichardC | 2017/04/09 07:27 AM |
| ARM solution and MIPS condition evaluation? | Exophase | 2017/04/09 12:02 PM |
| ARM solution and MIPS condition evaluation? | Wilco | 2017/04/09 01:52 PM |
| ARM solution and MIPS condition evaluation? | Exophase | 2017/04/09 05:16 PM |
| ARM solution and MIPS condition evaluation? | Wilco | 2017/04/10 12:40 AM |
| ARM solution and MIPS condition evaluation? | Exophase | 2017/04/10 12:00 PM |
| ARM solution and MIPS condition evaluation? | Wilco | 2017/04/10 03:19 PM |
| ARM solution and MIPS condition evaluation? | Ireland | 2017/04/07 04:34 PM |
| RISC *was* science, not religion | David Hess | 2017/04/05 11:24 PM |
| RISC *was* science, not religion | Ireland | 2017/04/06 08:54 AM |
| RISC *was* science, not religion | Ireland | 2017/04/05 12:23 PM |
| CISC religion? | wumpus | 2017/04/08 08:49 AM |
| CISC religion? | Ireland | 2017/04/08 12:24 PM |
| CISC religion? | Ireland | 2017/04/08 12:39 PM |
| Alan Turing | Ireland | 2017/04/08 04:31 PM |
| Alan Turing | rwessel | 2017/04/08 08:52 PM |
| Alan Turing | Ireland | 2017/04/09 04:35 AM |
| CISC religion? | wumpus | 2017/04/08 06:19 PM |
| narrow vs wide skillsets | RichardC | 2017/04/08 06:42 PM |
| CISC religion? | rwessel | 2017/04/08 08:33 PM |
| CISC religion? | wumpus | 2017/04/09 04:10 PM |
| CISC religion? | David Hess | 2017/04/09 06:56 PM |
| CISC religion? | rwessel | 2017/04/09 11:25 PM |
| CISC religion? | RichardC | 2017/04/08 02:44 PM |
| CISC religion? | Michael S | 2017/04/08 03:47 PM |
| CISC religion? | Michael S | 2017/04/08 03:52 PM |
| CISC religion? | Ireland | 2017/04/08 04:16 PM |
| CISC religion? | Michael S | 2017/04/08 04:26 PM |
| CISC religion? | Ireland | 2017/04/08 04:41 PM |
| CISC religion? | wumpus | 2017/04/08 07:04 PM |
| OT - faster RAM | Michael S | 2017/04/09 04:26 AM |
| CISC religion? | rwessel | 2017/04/08 09:10 PM |
| CISC religion? | rwessel | 2017/04/08 09:10 PM |
| gone parallel now ... | RichardC | 2017/04/08 06:15 PM |
| CISC religion? | gallier2 | 2017/04/09 05:47 AM |
| fascinating link, thanks! (NT) | RichardC | 2017/04/09 08:46 AM |
| CISC religion? | Ricardo B | 2017/04/10 04:55 AM |
| CISC religion? | anon | 2017/04/10 08:49 AM |
| CISC religion? | Travis | 2017/04/10 10:30 AM |
| CISC religion? | Travis | 2017/04/10 10:32 AM |
| CISC religion? | anon | 2017/04/10 01:12 PM |
| CISC religion? | Travis | 2017/04/10 06:41 PM |
| CISC religion? | Michael_S | 2017/04/11 09:44 AM |
| CISC religion? | Ricardo B | 2017/04/10 03:01 PM |
| CISC religion? | Michael_S | 2017/04/11 09:56 AM |
| CISC religion? | Ricardo B | 2017/04/11 12:27 PM |
| CISC religion? | Wilco | 2017/04/11 12:45 PM |
| CISC religion? | Michael S | 2017/04/11 01:07 PM |
| CISC religion? | Ricardo B | 2017/04/11 03:32 PM |
| CISC religion? | Ricardo B | 2017/04/10 03:24 PM |
| CISC religion? | dmcq | 2017/04/10 01:17 PM |
| CISC religion? | Ricardo B | 2017/04/10 04:16 PM |
| CISC religion? | Seni | 2017/04/09 03:06 AM |
| CISC religion? | Ireland | 2017/04/09 04:40 AM |
| CISC religion? | wumpus | 2017/04/09 09:08 AM |
| yes, except ARM and SPARC lacked cache | RichardC | 2017/04/09 04:50 AM |
| yes, except ARM and SPARC lacked cache | Seni | 2017/04/09 05:19 AM |
| yes, except ARM and SPARC lacked cache | RichardC | 2017/04/09 07:47 AM |
| minimal microcode | RichardC | 2017/04/09 08:33 AM |
| minimal microcode | Seni | 2017/04/09 09:02 AM |
| interesting, that makes sense (NT) | RichardC | 2017/04/09 01:45 PM |
| yes, except ARM and SPARC lacked cache | anon | 2017/04/09 07:57 PM |
| yes, except ARM and SPARC lacked cache | RichardC | 2017/04/10 05:18 AM |
| yes, except ARM and SPARC lacked cache | Seni | 2017/04/10 02:51 PM |
| yes, except ARM and SPARC lacked cache | Wilco | 2017/04/11 01:56 AM |
| yes, except ARM and SPARC lacked cache | dmcq | 2017/04/11 02:06 AM |
| no, ARM's 42 rows x 36 bits = 189 bytes (NT) | RichardC | 2017/04/11 07:11 AM |
| no, ARM's 42 rows x 36 bits = 189 bytes | dmcq | 2017/04/12 03:42 AM |
| yes, except ARM and SPARC lacked cache | Seni | 2017/04/11 11:27 AM |
| yes, except ARM and SPARC lacked cache | rwessel | 2017/04/11 05:02 PM |
| yes, except ARM and SPARC lacked cache | Seni | 2017/04/11 09:27 PM |
| yes, except ARM and SPARC lacked cache | RichardC | 2017/04/12 10:06 AM |
| yes, except ARM and SPARC lacked cache | Seni | 2017/04/12 11:47 AM |
| yes, except ARM and SPARC lacked cache | Wilco | 2017/04/12 12:38 PM |
| not the normal usage | RichardC | 2017/04/12 06:58 PM |
| yes, except ARM and SPARC lacked cache | rwessel | 2017/04/12 08:40 PM |
| yes, except ARM and SPARC lacked cache | dmcq | 2017/04/12 01:19 PM |
| yes, except ARM and SPARC lacked cache | rwessel | 2017/04/12 08:49 PM |
| yes, except ARM and SPARC lacked cache | dmcq | 2017/04/13 02:44 AM |
| yes, except ARM and SPARC lacked cache | anon | 2017/04/12 07:06 PM |
| yes, except ARM and SPARC lacked cache | wumpus | 2017/04/10 05:37 AM |
| Apple confirms that they are ditching Imagination within two years | Anon | 2017/04/03 01:36 AM |
| Apple confirms that they are ditching Imagination within two years | Doug S | 2017/04/03 11:56 AM |
| Or Samsung buys them, develops their own GPU, and uses the patents in the next lawsuit (NT) | Anon | 2017/04/03 12:26 PM |
| Or Samsung buys them, develops their own GPU, and uses the patents in the next lawsuit | Michael S | 2017/04/03 01:33 PM |
| Or ARM buys them, and gets any money they can from their IP and customers | dmcq | 2017/04/04 08:55 AM |
| IMGTEC stock has crashed already. | VertexMaster | 2017/04/03 04:33 AM |
| IMGTEC stock has crashed already. | Andreas | 2017/04/03 06:33 AM |
| IMGTEC stock has crashed already. | Exophase | 2017/04/03 08:43 AM |
| IMGTEC stock has crashed already. | Doug S | 2017/04/03 11:51 AM |