By:
Chester Lam
(lamchester.delete@this.gmail.com), June 9, 2019 12:54 pm
Splitting off from the previous thread:
First off, many thanks to John for graciously letting me play with GB4 Pro. That exposes a flag to set the number of iterations, making it easier to differentiate between initialization code and the actual test.
And thanks to Travis for pointing out that I should be using L1/L2/L3 miss counters to not overcount LLC misses.
Initial comments:
- IPC hovers around 0.05. Not gonna put a number on cache hit rate because it's not steady.
- The test does a good job of minimizing TLB misses. When I tried a good old a = array[a] loop, I got several times as many TLB misses (and an IPC of 0.2, because GCC compiled mine down to more instructions)
- Strangely, the % of cycles the page miss handlers were active was lower for the test than for the initialization part, when there were fewer TLB misses. Is Skylake just really good at doing concurrent page walks or something? I'll look more into this later.
C:Program Files (x86)Geekbench 4>geekbench_x86_64.exe --section 1 --workload 402 --iterations 100
Geekbench 4.1.0 Pro : http://www.geekbench.com/

Memory Latency 5952 72.7 ns

The hot section consists of around three instructions via intel vtune community edition - too bad I can't figure out how to make it use the specific perf counters I want, because its ability to associate events with instructions is quite cool: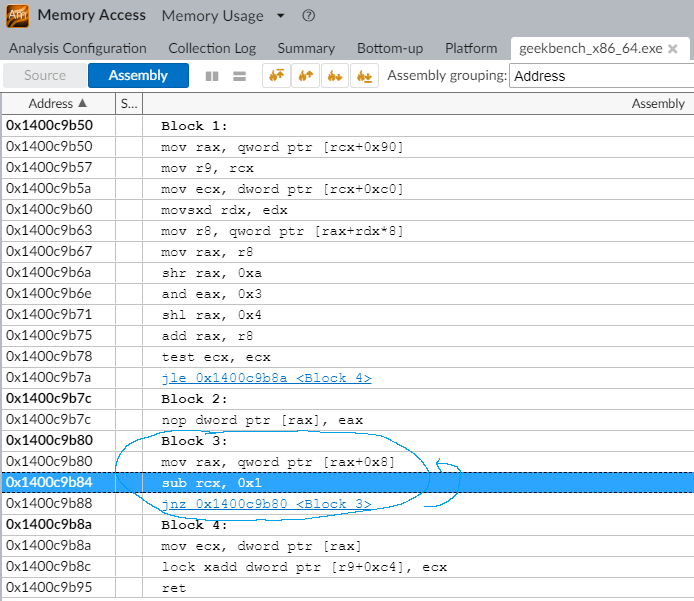 | Topic | Posted By | Date |
| --- | --- | --- |
| Geekbench 4 Latency Test | Chester Lam | 2019/06/09 12:54 PM |
| Geekbench 4 Integer Test Data | Chester Lam | 2019/06/10 11:32 PM |
| Geekbench 4 Integer Test Data | Doug S | 2019/06/11 11:46 AM |
| Geekbench 4 ICache Data (and Sandy Bridge IPC) | Chester Lam | 2019/06/11 11:09 PM |
| Geekbench 4 ICache Data (and Sandy Bridge IPC) | Doug S | 2019/06/12 10:45 AM |
| Geekbench 4 ICache Data (and Sandy Bridge IPC) | Chester Lam | 2019/06/12 03:20 PM |
| Geekbench 4 ICache Data (and Sandy Bridge IPC) | Chester Lam | 2019/06/12 03:20 PM |
| Geekbench 4 ICache Data (and Sandy Bridge IPC) | Maynard Handley | 2019/06/12 09:56 PM |
| Geekbench 4 ICache Data (and Sandy Bridge IPC) | Chester Lam | 2019/06/13 01:55 AM |
| Geekbench 4 ICache Data (and Sandy Bridge IPC) | Doug S | 2019/06/13 10:56 AM |
| Geekbench 4 ICache Data (and Sandy Bridge IPC) | Chester Lam | 2019/06/13 04:20 PM |
| Geekbench 4 ICache Data (and Sandy Bridge IPC) | Chester Lam | 2019/06/13 04:27 PM |
| Geekbench 4 ICache Data (and Sandy Bridge IPC) | Foo_ | 2019/06/14 02:17 AM |
| Geekbench 4 ICache Data (and Sandy Bridge IPC) | Linus Torvalds | 2019/06/13 09:40 PM |
| Geekbench 4 ICache Data (and Sandy Bridge IPC) | Doug S | 2019/06/13 09:57 PM |
| Geekbench 4 ICache Data (and Sandy Bridge IPC) | Gabriele Svelto | 2019/06/14 02:01 AM |
| Geekbench 4 ICache Data (and Sandy Bridge IPC) | Gabriele Svelto | 2019/06/14 02:06 AM |
| Geekbench 4 ICache Data (and Sandy Bridge IPC) | Gian-Carlo Pascutto | 2019/06/14 04:15 AM |
| Geekbench 4 ICache Data (and Sandy Bridge IPC) | Chester Lam | 2019/06/14 12:26 PM |
| Geekbench 4 ICache Data (and Sandy Bridge IPC) | ⚛ | 2019/06/15 07:47 AM |
| Geekbench 4 ICache Data (and Sandy Bridge IPC) | Linus Torvalds | 2019/06/15 10:29 AM |
| Geekbench 4 ICache Data (and Sandy Bridge IPC) | Seni | 2019/06/15 10:45 AM |
| Geekbench 4 ICache Data (and Sandy Bridge IPC) | Linus Torvalds | 2019/06/15 11:48 AM |
| Geekbench 4 ICache Data (and Sandy Bridge IPC, and GUI IPC) | ⚛ | 2019/06/15 12:57 PM |
| Geekbench 4 ICache Data (and Sandy Bridge IPC, and GUI IPC) | Linus Torvalds | 2019/06/15 03:56 PM |
| Geekbench 4 ICache Data (and Sandy Bridge IPC, and GUI IPC) | Maynard Handley | 2019/06/15 11:24 PM |
| Geekbench 4 ICache Data (and Sandy Bridge IPC, and GUI IPC) | Jukka Larja | 2019/06/16 01:52 AM |
| Geekbench 4 ICache Data (and Sandy Bridge IPC, and GUI IPC) | Gabriele Svelto | 2019/06/16 04:03 AM |
| Geekbench 4 ICache Data (and Sandy Bridge IPC, and GUI IPC) | Maynard Handley | 2019/06/16 09:24 AM |
| Geekbench 4 ICache Data (and Sandy Bridge IPC, and GUI IPC) | Gabriele Svelto | 2019/06/16 11:26 PM |
| Geekbench 4 ICache Data (and Sandy Bridge IPC, and GUI IPC) | Travis Downs | 2019/06/16 09:22 PM |
| Geekbench 4 ICache Data (and Sandy Bridge IPC, and GUI IPC) | Maynard Handley | 2019/06/16 10:52 PM |
| Geekbench 4 ICache Data (and Sandy Bridge IPC, and GUI IPC) | Michael S | 2019/06/17 06:47 AM |
| Geekbench 4 ICache Data (and Sandy Bridge IPC, and GUI IPC) | anon | 2019/06/17 07:05 AM |
| Geekbench 4 ICache Data (and Sandy Bridge IPC, and GUI IPC) | Brett | 2019/06/18 03:39 PM |
| Geekbench 4 ICache Data (and Sandy Bridge IPC, and GUI IPC) | anon | 2019/06/18 09:50 PM |
| Geekbench 4 ICache Data (and Sandy Bridge IPC, and GUI IPC) | Maynard Handley | 2019/06/19 12:47 PM |
| Geekbench 4 ICache Data (and Sandy Bridge IPC, and GUI IPC) | anon | 2019/06/19 03:10 PM |
| Geekbench 4 ICache Data (and Sandy Bridge IPC, and GUI IPC) | Brett | 2019/06/19 02:51 PM |
| Geekbench 4 ICache Data (and Sandy Bridge IPC, and GUI IPC) | anon | 2019/06/19 03:08 PM |
| Geekbench 4 ICache Data (and Sandy Bridge IPC, and GUI IPC) | Maynard Handley | 2019/06/20 03:54 PM |
| Geekbench 4 ICache Data (and Sandy Bridge IPC, and GUI IPC) | Maynard Handley | 2019/06/20 05:28 PM |
| Geekbench 4 ICache Data (and Sandy Bridge IPC, and GUI IPC) | anon | 2019/06/20 08:02 PM |
| Geekbench 4 ICache Data (and Sandy Bridge IPC, and GUI IPC) | anon | 2019/06/20 08:08 PM |
| Geekbench 4 ICache Data (and Sandy Bridge IPC, and GUI IPC) | Maynard Handley | 2019/06/20 08:27 PM |
| Geekbench 4 ICache Data (and Sandy Bridge IPC, and GUI IPC) | anon | 2019/06/20 11:37 PM |
| Geekbench 4 ICache Data (and Sandy Bridge IPC, and GUI IPC) | Dummond D. Slow | 2019/06/20 07:12 AM |
| CoW and cache flushes | Gionatan Danti | 2019/06/20 03:22 PM |
| Geekbench 4 ICache Data (and Sandy Bridge IPC, and GUI IPC) | Anne O. Nymous | 2019/06/19 12:46 AM |
| Geekbench 4 ICache Data (and Sandy Bridge IPC, and GUI IPC) | Maynard Handley | 2019/06/19 12:52 PM |
| Geekbench 4 ICache Data (and Sandy Bridge IPC, and GUI IPC) | Brett | 2019/06/19 02:02 PM |
| Geekbench 4 ICache Data (and Sandy Bridge IPC, and GUI IPC) | anonymous2 | 2019/06/19 03:25 PM |
| Geekbench 4 ICache Data (and Sandy Bridge IPC, and GUI IPC) | Brett | 2019/06/19 08:11 PM |
| Geekbench 4 ICache Data (and Sandy Bridge IPC, and GUI IPC) | rwessel | 2019/06/19 09:37 PM |
| Geekbench 4 ICache Data (and Sandy Bridge IPC, and GUI IPC) | Brett | 2019/06/20 04:33 PM |
| Geekbench 4 ICache Data (and Sandy Bridge IPC, and GUI IPC) | anon | 2019/06/20 04:48 PM |
| Geekbench 4 ICache Data (and Sandy Bridge IPC, and GUI IPC) | rwessel | 2019/06/20 04:57 PM |
| Geekbench 4 ICache Data (and Sandy Bridge IPC, and GUI IPC) | Brett | 2019/06/20 09:18 PM |
| Geekbench 4 ICache Data (and Sandy Bridge IPC, and GUI IPC) | Gionatan Danti | 2019/06/21 02:12 AM |
| Geekbench 4 ICache Data (and Sandy Bridge IPC, and GUI IPC) | anon | 2019/06/21 10:50 AM |
| Geekbench 4 ICache Data (and Sandy Bridge IPC, and GUI IPC) | Gionatan Danti | 2019/06/21 01:37 PM |
| Geekbench 4 ICache Data (and Sandy Bridge IPC, and GUI IPC) | anon | 2019/06/21 02:40 PM |
| Geekbench 4 ICache Data (and Sandy Bridge IPC, and GUI IPC) | Brett | 2019/06/21 07:51 PM |
| RAIDZ | Gionatan Danti | 2019/06/21 11:35 PM |
| RAIDZ | anon | 2019/06/22 01:45 AM |
| Geekbench 4 ICache Data (and Sandy Bridge IPC, and GUI IPC) | Doug S | 2019/06/21 03:42 PM |
| Geekbench 4 ICache Data (and Sandy Bridge IPC, and GUI IPC) | Gionatan Danti | 2019/06/21 11:37 PM |
| Data checksum | Gionatan Danti | 2019/06/22 03:35 AM |
| Data checksum | anon | 2019/06/22 04:37 AM |
| Drive DRAM errors | Maxwell | 2019/06/22 05:45 AM |
| Drive DRAM errors | Gionatan Danti | 2019/06/22 09:36 AM |
| Drive DRAM errors | David Hess | 2019/06/23 06:31 AM |
| Drive DRAM errors | Maxwell | 2019/06/24 05:41 AM |
| Drive DRAM errors | Etienne | 2019/06/24 06:04 AM |
| Drive DRAM errors | David Hess | 2019/06/23 06:39 AM |
| Drive DRAM errors | Brett | 2019/06/23 11:46 AM |
| Drive DRAM errors | David Hess | 2019/06/23 12:07 PM |
| Drive DRAM errors | Doug S | 2019/06/23 12:21 PM |
| Drive DRAM errors | Brett | 2019/06/23 12:25 PM |
| Drive DRAM errors | Doug S | 2019/06/23 12:33 PM |
| Drive DRAM errors | Brett | 2019/06/23 01:49 PM |
| Data checksum | Doug S | 2019/06/22 09:43 AM |
| Data checksum | anon | 2019/06/22 10:01 AM |
| Data checksum | Doug S | 2019/06/22 02:53 PM |
| Data checksum | anon | 2019/06/22 05:42 PM |
| Data checksum | David Hess | 2019/06/23 06:43 AM |
| Geekbench 4 ICache Data (and Sandy Bridge IPC, and GUI IPC) | David Hess | 2019/06/23 06:04 AM |
| Geekbench 4 ICache Data (and Sandy Bridge IPC, and GUI IPC) | Adrian | 2019/06/19 08:51 PM |
| Geekbench 4 ICache Data (and Sandy Bridge IPC, and GUI IPC) | Doug S | 2019/06/19 09:22 PM |
| Geekbench 4 ICache Data (and Sandy Bridge IPC, and GUI IPC) | Adrian | 2019/06/20 12:33 AM |
| Geekbench 4 ICache Data (and Sandy Bridge IPC, and GUI IPC) | anonymous2 | 2019/06/20 01:01 AM |
| Geekbench 4 ICache Data (and Sandy Bridge IPC, and GUI IPC) | Doug S | 2019/06/20 03:51 PM |
| Geekbench 4 ICache Data (and Sandy Bridge IPC, and GUI IPC) | anon | 2019/06/20 01:35 PM |
| Geekbench 4 ICache Data (and Sandy Bridge IPC, and GUI IPC) | Anne O. Nymous | 2019/06/21 01:38 PM |
| Geekbench 4 ICache Data (and Sandy Bridge IPC, and GUI IPC) | Maynard Handley | 2019/06/21 02:14 PM |
| Layers | chester lam | 2019/06/21 05:42 PM |
| Layers | Maynard Handley | 2019/06/21 06:54 PM |
| Layers | chester lam | 2019/06/22 08:54 PM |
| Layers | Anne O. Nymous | 2019/06/22 10:40 AM |
| Geekbench 4 ICache Data (and Sandy Bridge IPC, and GUI IPC) | anon | 2019/06/21 11:47 PM |
| Geekbench 4 ICache Data (and Sandy Bridge IPC, and GUI IPC) | Anne O. Nymous | 2019/06/22 10:44 AM |
| Filesystem data checksum pointless? | Brett | 2019/06/22 02:17 PM |
| Filesystem data checksum pointless? | anon | 2019/06/22 02:44 PM |
| Data corruption notification is useful | Paul A. Clayton | 2019/06/22 04:22 PM |
| Data corruption notification is useful | anon | 2019/06/22 05:14 PM |
| Data corruption notification is useful | Maxwell | 2019/06/23 12:30 AM |
| Filesystem data checksum pointless? | Brett | 2019/06/22 06:33 PM |
| Filesystem data checksum pointless? | Brett | 2019/06/22 11:12 PM |
| Filesystem data checksum pointless? | Doug S | 2019/06/23 02:09 AM |
| Filesystem data checksum pointless? | Adrian | 2019/06/23 02:50 AM |
| Filesystem data checksum pointless? | David Hess | 2019/06/23 11:25 AM |
| Filesystem data checksum pointless? | David Hess | 2019/06/23 11:19 AM |
| Filesystem data checksum pointless? | Brett | 2019/06/23 01:30 PM |
| Filesystem data checksum pointless? | anon | 2019/06/23 02:15 AM |
| Filesystem data checksum pointless? | David Hess | 2019/06/23 11:12 AM |
| Filesystem data checksum pointless? | Linus Torvalds | 2019/06/22 02:55 PM |
| Filesystem data checksum pointless? | Maynard Handley | 2019/06/22 03:59 PM |
| Filesystem data checksum pointless? | anon | 2019/06/22 05:52 PM |
| Filesystem data checksum pointless? | Maynard Handley | 2019/06/22 08:16 PM |
| Filesystem data checksum pointless? | anon | 2019/06/23 02:02 AM |
| Filesystem data checksum pointless? | Doug S | 2019/06/23 02:18 AM |
| Filesystem data checksum pointless? | Maynard Handley | 2019/06/23 08:54 AM |
| Filesystem data checksum pointless? | Adrian | 2019/06/22 10:08 PM |
| Filesystem data checksum pointless? | Anne O. Nymous | 2019/06/23 02:34 AM |
| Geekbench 4 ICache Data (and Sandy Bridge IPC, and GUI IPC) | Anne O. Nymous | 2020/06/30 02:03 AM |
| Geekbench 4 ICache Data (and Sandy Bridge IPC, and GUI IPC) | Travis Downs | 2019/06/17 08:48 AM |
| Geekbench 4 ICache Data (and Sandy Bridge IPC, and GUI IPC) | anon#1 | 2019/06/16 11:18 PM |
| Geekbench 4 ICache Data (and Sandy Bridge IPC, and GUI IPC) | Maynard Handley | 2019/06/17 01:41 AM |
| Geekbench 4 ICache Data (and Sandy Bridge IPC, and GUI IPC) | Adrian | 2019/06/17 04:21 AM |
| Geekbench 4 ICache Data (and Sandy Bridge IPC, and GUI IPC) | anon#1 | 2019/06/17 08:25 AM |
| Geekbench 4 ICache Data (and Sandy Bridge IPC, and GUI IPC) | ⚛ | 2019/06/18 07:10 AM |
| Geekbench 4 ICache Data (and Sandy Bridge IPC, and GUI IPC) | Chester Lam | 2019/06/18 11:16 AM |
| Most users don't care about UI performance | anonymous2 | 2019/06/18 01:52 PM |
| Most users don't care about UI performance | Jukka Larja | 2019/06/19 07:10 AM |
| Most users don't care about UI performance | anonymous2 | 2019/06/19 01:13 PM |
| Most users don't care about UI performance | anon#1 | 2019/06/19 02:11 PM |
| Most users don't care about UI performance | Gabriele Svelto | 2019/06/20 07:49 AM |
| Most users don't care about UI performance | anonymous2 | 2019/06/20 08:23 PM |
| Most users don't care about UI performance | chester lam | 2019/06/21 05:49 PM |
| Geekbench 4 ICache Data (and Sandy Bridge IPC, and GUI IPC) | ⚛ | 2019/06/18 01:57 PM |
| Geekbench 4 ICache Data (and Sandy Bridge IPC, and GUI IPC) | Doug S | 2019/06/18 02:45 PM |
| Geekbench 4 ICache Data (and Sandy Bridge IPC, and GUI IPC) | Linus Torvalds | 2019/06/18 02:49 PM |
| Geekbench 4 ICache Data (and Sandy Bridge IPC, and GUI IPC) | anonymous2 | 2019/06/19 03:35 PM |
| Geekbench 4 ICache Data (and Sandy Bridge IPC, and GUI IPC) | Chester Lam | 2019/06/20 12:35 PM |
| Geekbench 4 ICache Data (and Sandy Bridge IPC, and GUI IPC) | Brendan | 2019/06/20 07:49 PM |
| Geekbench 4 ICache Data (and Sandy Bridge IPC, and GUI IPC) | Chester Lam | 2019/06/21 12:27 AM |
| Geekbench 4 ICache Data (and Sandy Bridge IPC, and GUI IPC) | Jouni Osmala | 2019/06/22 03:47 AM |
| Geekbench 4 ICache Data (and Sandy Bridge IPC, and GUI IPC) | Chester Lam | 2019/06/20 01:42 PM |
| Geekbench 4 ICache Data (and Sandy Bridge IPC) | Michael S | 2019/06/15 12:19 PM |
| Geekbench 4 ICache Data (and Sandy Bridge IPC) | Doug S | 2019/06/15 12:52 PM |
| Geekbench 4 ICache Data (and Sandy Bridge IPC) | Brett | 2020/07/01 03:54 PM |
| Geekbench 4 ICache Data (and Sandy Bridge IPC) | Doug S | 2020/07/01 09:56 PM |
| Geekbench 4 ICache Data (and Sandy Bridge IPC) | anon2 | 2020/07/02 12:01 AM |
| Geekbench 4 ICache Data (and Sandy Bridge IPC) | James | 2020/07/02 03:44 AM |
| Geekbench 4 ICache Data (and Sandy Bridge IPC) | Brett | 2020/07/02 11:47 AM |
| Geekbench 4 ICache Data (and Sandy Bridge IPC) | Doug S | 2020/07/02 11:50 AM |
| Geekbench 4 ICache Data (and Sandy Bridge IPC) | anon2 | 2020/07/02 07:12 PM |
| Geekbench 4 ICache Data (and Sandy Bridge IPC) | Doug S | 2020/07/02 10:40 PM |
| Geekbench 4 ICache Data (and Sandy Bridge IPC) | anon2 | 2020/07/03 01:06 AM |
| Geekbench 4 ICache Data (and Sandy Bridge IPC) | Maynard Handley | 2020/07/03 10:09 AM |
| Geekbench 4 ICache Data (and Sandy Bridge IPC) | Niels Jørgen Kruse | 2020/07/03 12:19 PM |
| Geekbench 4 ICache Data (and Sandy Bridge IPC) | Maynard Handley | 2020/07/03 03:03 PM |
| Geekbench 4 ICache Data (and Sandy Bridge IPC) | Brett | 2020/07/03 12:38 PM |
| This is for CASUAL PC users not RWT readers! | Doug S | 2020/07/03 01:04 PM |
| This is for CASUAL PC users not RWT readers! | Maynard Handley | 2020/07/03 03:14 PM |
| This is for CASUAL PC users not RWT readers! | Doug S | 2020/07/03 03:44 PM |
| This is for CASUAL PC users not RWT readers! | Maynard Handley | 2020/07/03 05:35 PM |
| This is for CASUAL PC users not RWT readers! | Doug S | 2020/07/03 10:54 PM |
| This is for CASUAL PC users not RWT readers! | Brett | 2020/07/04 08:12 PM |
| This is for CASUAL PC users not RWT readers! | Doug S | 2020/07/04 10:52 PM |
| This is for CASUAL PC users not RWT readers! | Brett | 2020/07/05 12:15 PM |
| Geekbench 4 ICache Data (and Sandy Bridge IPC) | Maynard Handley | 2020/07/03 03:05 PM |
| Geekbench 4 ICache Data (and Sandy Bridge IPC) | anon2 | 2020/07/03 05:32 PM |
| Geekbench 4 ICache Data (and Sandy Bridge IPC) | Maynard Handley | 2020/07/04 12:55 AM |
| The quality of your posts is higher when there are fewer of them (NT) | anonymous2 | 2020/07/04 09:23 AM |
| The quality of your posts is higher when there are fewer of them | Maynard Handley | 2020/07/04 10:05 AM |
| The quality of your posts is higher when there are fewer of them | anonymou5 | 2020/07/04 11:02 AM |
| The quality of your posts is higher when there are fewer of them | Brett | 2020/07/04 01:58 PM |
| The quality of your posts is higher when there are fewer of them | Anne O. Nymous | 2020/07/05 05:09 AM |
| Are we back in kindergarten now? (NT) | Jose | 2020/07/05 05:36 AM |
| Are we back in kindergarten now? | Brett | 2020/07/05 11:27 AM |
| Geekbench 4 ICache Data (and Sandy Bridge IPC) | anon2 | 2020/07/04 05:38 PM |
| Geekbench 4 ICache Data (and Sandy Bridge IPC) | Maynard Handley | 2020/07/04 05:53 PM |
| read the thread Einstein (NT) | anon2 | 2020/07/04 07:25 PM |
| Geekbench 4 ICache Data (and Sandy Bridge IPC) | Jouni Osmala | 2019/06/16 06:59 AM |
| Geekbench 4 ICache Data (and Sandy Bridge IPC) | UnmaskedUnderflow | 2020/07/05 09:53 AM |