By:
Clipping Coupons
(clipping.coupons.delete@this.example.com), September 17, 2020 7:22 pm
anon (anon.delete@this.anon.com) on September 17, 2020 7:10 pm wrote:
> AnandTech's (SPEC ST performance) review is here: anandtech.com/show/16084/intel-tiger-lake-review-deep-dive-core-11th-gen/8
>
> All of TigerLake's extra performance over IceLake is due to higher clocks. And it significantly
> outperforms the Zen 2 based AMD Renoir chip (Ryzen 7 4800U). However not all is good: TigerLake
> experiences a noticeable IPC regression compared to IceLake. The memory subsystem is unable
> to keep up with the higher clocks, and the reworked cache is not enough.
>
> And it just barely beats Apple's A13 despite using significantly more power.
> Makes you think the A14 based Mac coming later this year will blow past Intel's
> best CPU microarchitecture in single threaded integer performance.
>
>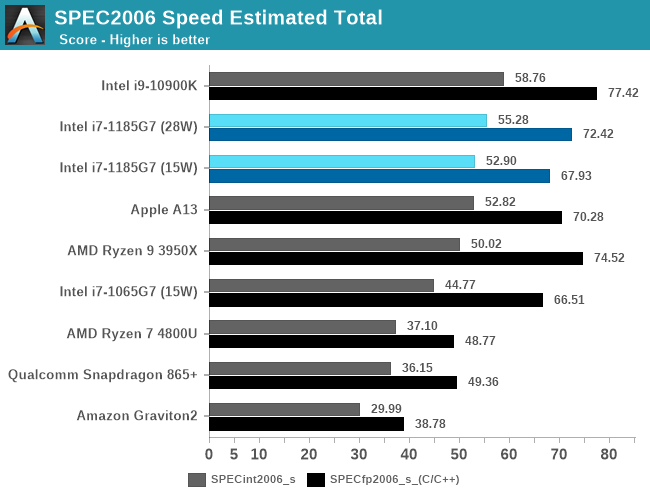 At 28W (drawing 50W) TigerLake it LPDDR4X fast memory it can beat a 20W Ryzen 7 4800U on ST workload. TigerLake IGP seems to be somewhat better than the Ryzen IGP.