By:
Michael S
(already5chosen.delete@this.yahoo.com), September 18, 2020 1:58 am
anon (anon.delete@this.anon.com) on September 17, 2020 7:10 pm wrote:
> AnandTech's (SPEC ST performance) review is here: anandtech.com/show/16084/intel-tiger-lake-review-deep-dive-core-11th-gen/8
>
> All of TigerLake's extra performance over IceLake is due to higher clocks. And it significantly
> outperforms the Zen 2 based AMD Renoir chip (Ryzen 7 4800U). However not all is good: TigerLake
> experiences a noticeable IPC regression compared to IceLake. The memory subsystem is unable
> to keep up with the higher clocks, and the reworked cache is not enough.
>
> And it just barely beats Apple's A13 despite using significantly more power.
> Makes you think the A14 based Mac coming later this year will blow past Intel's
> best CPU microarchitecture in single threaded integer performance.
>
>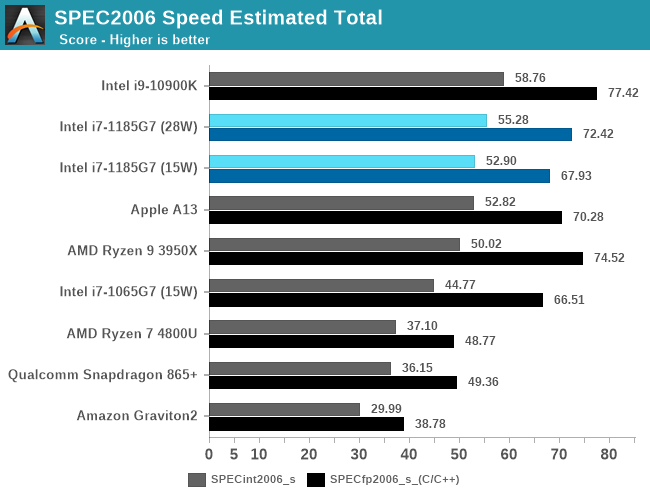 The picture reminds me of 1951's Arthur C. Clarke classic short story "Superiority".
The ultimate cause of our failure was a simple one: despite all statements to the contrary, it was not due to lack of bravery on the part of our men, or to any fault of the Fleet's. We were defeated by one thing only - by the inferior science of our enemies. I repeat - by the inferior science of our
enemies.
I mean, minimally tweaked 5 y.o. uArch manufactured on maximally tweaked 6 y.o. process reigns on top of the chart.