By:
Adrian
(a.delete@this.acm.org), September 18, 2020 4:56 am
Michael S (already5chosen.delete@this.yahoo.com) on September 18, 2020 2:58 am wrote:
> anon (anon.delete@this.anon.com) on September 17, 2020 7:10 pm wrote:
> > AnandTech's (SPEC ST performance) review is here: anandtech.com/show/16084/intel-tiger-lake-review-deep-dive-core-11th-gen/8
> >
> > All of TigerLake's extra performance over IceLake is due to higher clocks. And it significantly
> > outperforms the Zen 2 based AMD Renoir chip (Ryzen 7 4800U). However not all is good: TigerLake
> > experiences a noticeable IPC regression compared to IceLake. The memory subsystem is unable
> > to keep up with the higher clocks, and the reworked cache is not enough.
> >
> > And it just barely beats Apple's A13 despite using significantly more power.
> > Makes you think the A14 based Mac coming later this year will blow past Intel's
> > best CPU microarchitecture in single threaded integer performance.
> >
> >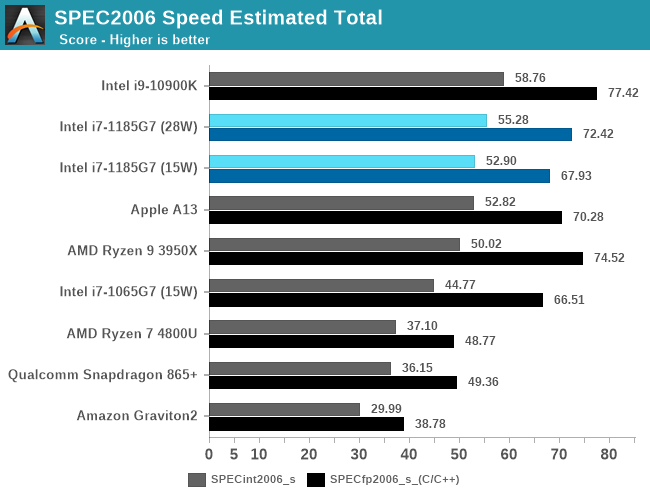 >
> The picture reminds me of 1951's Arthur C. Clarke classic short story "Superiority".
>
The ultimate cause of our failure was a simple one: despite all statements to the contrary, it was not
> due to lack of bravery on the part of our men, or to any fault of the Fleet's. We were defeated by one
> thing only - by the inferior science of our enemies. I repeat - by the inferior science of our
> enemies.
>
> I mean, minimally tweaked 5 y.o. uArch manufactured on maximally
> tweaked 6 y.o. process reigns on top of the chart.
In the first half of 2021, the 8-core Tiger Lake H, @ 35 W ... 65 W TDP, will finally reach levels of performance beyond what was ever achieved by the Skylake descendants.
In 2015 I would not have believed that it will take so much time until the next generation, but better late than never.
Of course, in a few weeks we should know more about Zen 3, which should be comfortable above the top of that chart, many months before the next Intel launch.