By:
Gionatan Danti
(g.danti.delete@this.assyoma.it), August 1, 2022 1:33 pm
Doug S (foo.delete@this.bar.bar) on August 1, 2022 8:37 am wrote:
> anon2 (anon.delete@this.anon.com) on July 31, 2022 10:55 pm wrote:
> > The hard problem for NAND is random read latency.
>
>
> Can you expand on that further? What makes random reads a problem for NAND? True they
> aren't as fast as sequential but hardly seem to be an issue for modern SSDs.
>
> Looking at Anandtech I see the fastest SSD for 4K random read throughput they benchmarked in 2021 (SK
> Hynix P31 1 TB) does 193.5 MB/sec, and costs under $100. Doesn't look like a problem to me, given that
> not so long ago you'd be using a hard drive that couldn't deliver 1% of that in the same test.
The value you quoted is for queue depth > 1 which means the drive has the possibility to exploit its internal parallelism.
But QD 1 random reads paint a very different picture: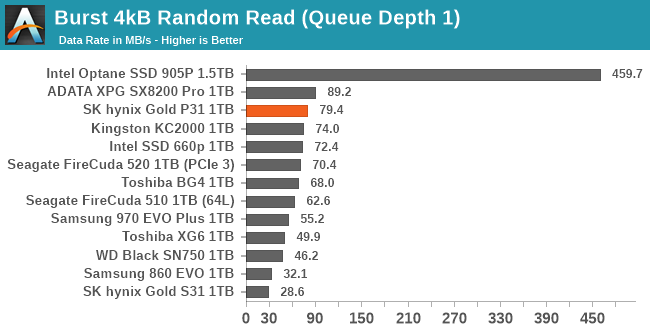 See the bar at the top? It's the Optane drive. And yes, QD1 random reads are quite important in real world workloads.
Regards.