By:
Doug S
(foo.delete@this.bar.bar), August 2, 2022 9:24 am
NoSpammer (no.delete@this.spam.com) on August 2, 2022 3:50 am wrote:
> Gionatan Danti (g.danti.delete@this.assyoma.it) on August 1, 2022 1:33 pm wrote:
> > Doug S (foo.delete@this.bar.bar) on August 1, 2022 8:37 am wrote:
> > > anon2 (anon.delete@this.anon.com) on July 31, 2022 10:55 pm wrote:
> > > > The hard problem for NAND is random read latency.
> > >
> > >
> > > Can you expand on that further? What makes random reads a problem for NAND? True they
> > > aren't as fast as sequential but hardly seem to be an issue for modern SSDs.
> > >
> > > Looking at Anandtech I see the fastest SSD for 4K random read throughput they benchmarked in 2021 (SK
> > > Hynix P31 1 TB) does 193.5 MB/sec, and costs under $100. Doesn't look like a problem to me, given that
> > > not so long ago you'd be using a hard drive that couldn't deliver 1% of that in the same test.
> >
> > > The value you quoted is for queue depth 1 which means the drive
> > > has the possibility to exploit its internal parallelism.
> >
> > But QD 1 random reads paint a very different picture:
> >
> >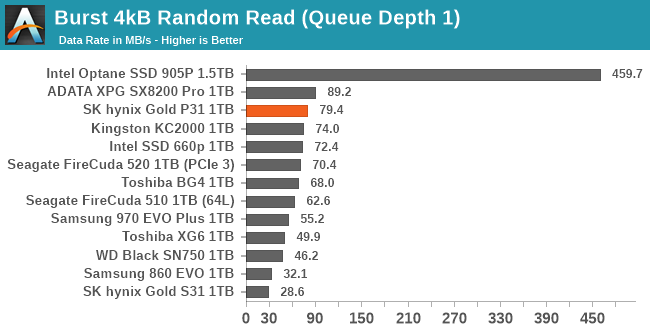 > >
> > See the bar at the top? It's the Optane drive. And yes, QD1
> > random reads are quite important in real world workloads.
>
>
> It's funny how sponsored reviews forget to include the best of competition. Why are the top of the line
> Samsung SSDs excluded from this comparison? There are also some others with much improved 4K performance.
Anandtech's audience is enthusiast consumer focused, so they mostly review/benchmark consumer equipment. They might occasionally review something like Optane even though it is targeted at the enterprise, either to provide a point of comparison for a new technology or because Intel was trying to give people the impression it would someday get pricing down to where consumers might buy it.
They aren't going to review all the highest performance SSDs, because their pricing clearly targets them at the enterprise market, and while their some of their audience may want to wring the last bit of performance out of a CPU and GPU that's only to make their games faster. A souped up SSD isn't going to help their frame rate.