By:
Gionatan Danti
(g.danti.delete@this.assyoma.it), August 2, 2022 10:34 am
Doug S (foo.delete@this.bar.bar) on August 2, 2022 9:24 am wrote:
> NoSpammer (no.delete@this.spam.com) on August 2, 2022 3:50 am wrote:
> > It's funny how sponsored reviews forget to include the best of competition. Why are the top of the line
> > Samsung SSDs excluded from this comparison? There are also some others with much improved 4K performance.
>
>
> Anandtech's audience is enthusiast consumer focused, so they mostly review/benchmark consumer equipment.
> They might occasionally review something like Optane even though it is targeted at the enterprise,
> either to provide a point of comparison for a new technology or because Intel was trying to give
> people the impression it would someday get pricing down to where consumers might buy it.
>
> They aren't going to review all the highest performance SSDs, because their pricing clearly targets them at the
> enterprise market, and while their some of their audience may want to wring the last bit of performance out of
> a CPU and GPU that's only to make their games faster. A souped up SSD isn't going to help their frame rate.
Sometime a more enterprise focused review was posted. Take for example
this article
: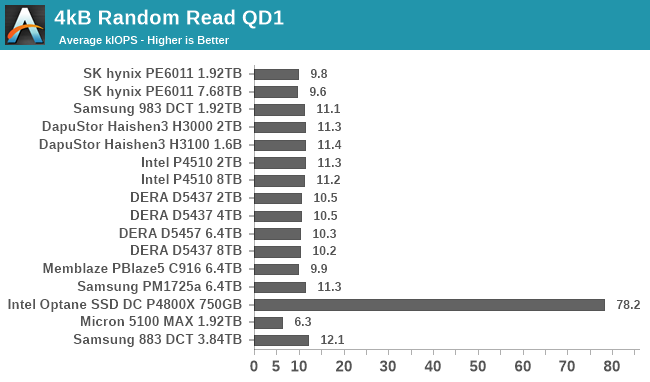 As you can see, even high-end Memblaze SSDs are not match for Optane.
This other article
shows Samsung's ZET as quite competitive, still 2X slower than Optane: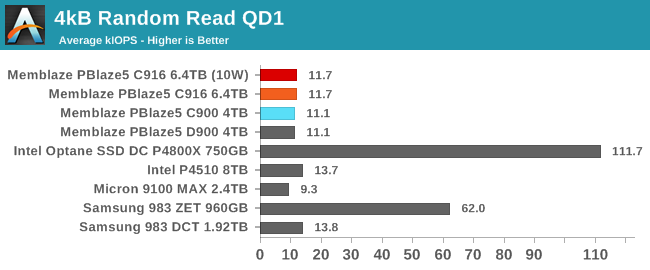 Moreover Samsung Z-NAND drives lack a product refresh, so am I not sure about their future availability.
Surely Optane was not a panacea at all, but was an interesting product and I am sorry to see it gone.
Regards.